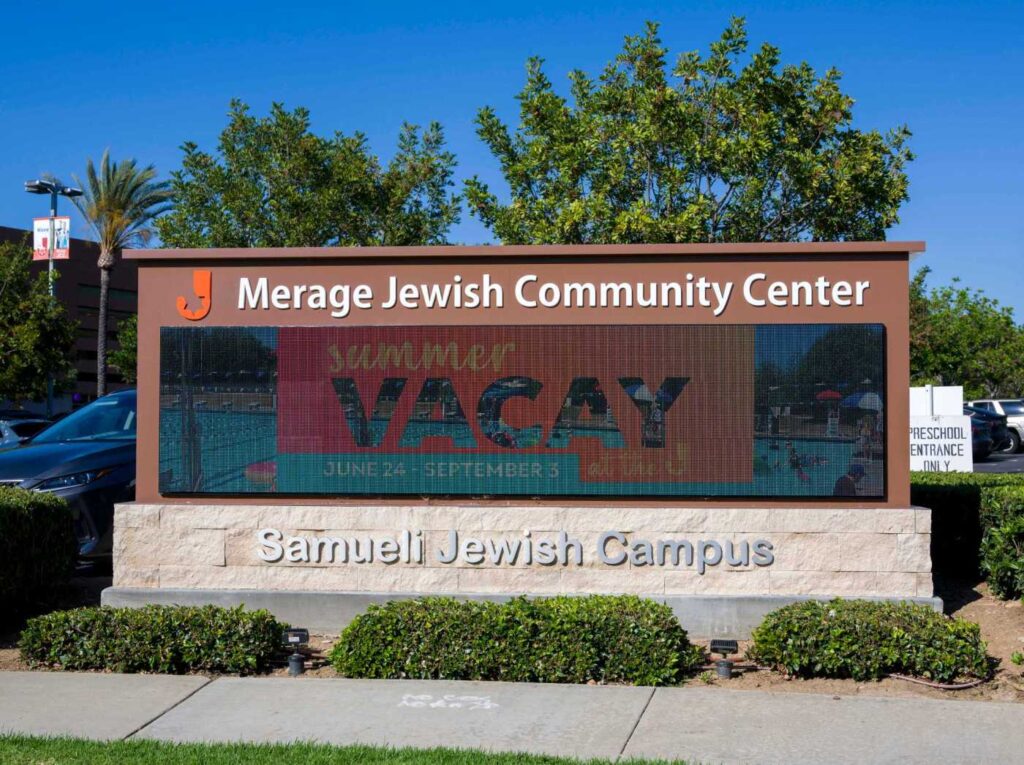 1. Merage Jewish Community Center
1 Federation Way, Irvine; 949-435-3400; jccoc.org
Merage Jewish Community Center takes a thorough approach to wellness.
Director of Marketing and Communications Char Williams-Cavitt says JCC membership opens the door to a diverse list of recreational, social, educational, physical and cultural activities.
Merage JCC members have access to a long list of services and amenities, including a health and wellness center offering more than 65 free group exercise classes; personal training and spa services; a state-licensed after-school program offering a variety of enrichments for those K-5; a teen center; gymnasium with two full-sized basketball courts; pool and aquatics center — and more.
"We offer everything from personal training to group fitness classes," says Williams-Cavitt. "We have both indoor and outdoor workout spaces as well as two Pilates studios. We offer spa services and physical therapy onsite and have both an indoor and outdoor pickleball courts.  Our personal trainers work with you to establish fitness goals by creating a program geared to your fitness level, needs and schedule."
Examples of onsite classes include functional strength, aqua deck fitness, arms, abs and booty, mat Pilates, aqua blast, Zumba, balance and body alignment, cardio kickboxing, Vinyasa flow yoga, performance ride, Pilates fusion and gentle yoga, just to name a few. On Demand offerings are also available.
"Whether you're looking to work out your body or your mind, there's something here for everyone, regardless of race, religion or age," says Char Williams-Cavitt.
2. LA Fitness
Multiple Locations; lafitness.com
LA Fitness's mission is plain and simple — good health. Founded in Southern California in 1984, LA Fitness to this day continues seeking innovative ways to enhance the physical and emotional well-being of an increasingly diverse membership base. With a wide range of amenities and trained staff, LA Fitness offers fun and effective workout options to family members of all ages and interests.
Its list of class offerings are long and varied, including aqua fit, body works plus abs, boot camp conditioning, cardio jam, core and more, cycle, hip-hop, kickbox cardio, mat Pilates, power circuit, senior fit, step sculpt, Zumba and more.
LA Fitness also offers Pro Results personal trainers that can help design a customized workout plan while providing ongoing motivation and support. It is ideal for all fitness levels and backgrounds. Certified personal trainers can help add variety to your workout routine while also helping you learn new exercises and proper form.
3. The Camp Transformation Center
17895 Sky Park Circle, Ste. F and G, Irvine; 949-557-7060; thecamptc.com
It isn't always easy to find the right gym.
The Camp Transformation Center, Irvine gives options and a range of support to help clients get results.
Its Yelp reviews read something like: "I joined the 6-week challenge for 20lbs lost and I got to say I wasn't disappointed. The trainers and staff here are absolutely here to help you achieve your goal…"
The Camp offers classes starting from 5 a.m. all the way to 7 p.m., with more than 30 classes a week, according to co-owner Lalo Alvarado.
"We have tons of equipment, of everything from weights to Terra-Cores," says Alvarado. "Best trainers and staff and cleanest gym."
The Camp offers memberships and challenges for three weeks or six months, Alvarado says. The center also specializes in nutrition and meals — for weight loss as well as to help gain muscle and tone up — and has its own supplement company, MyoFX, to help clients further reach their fitness goals.