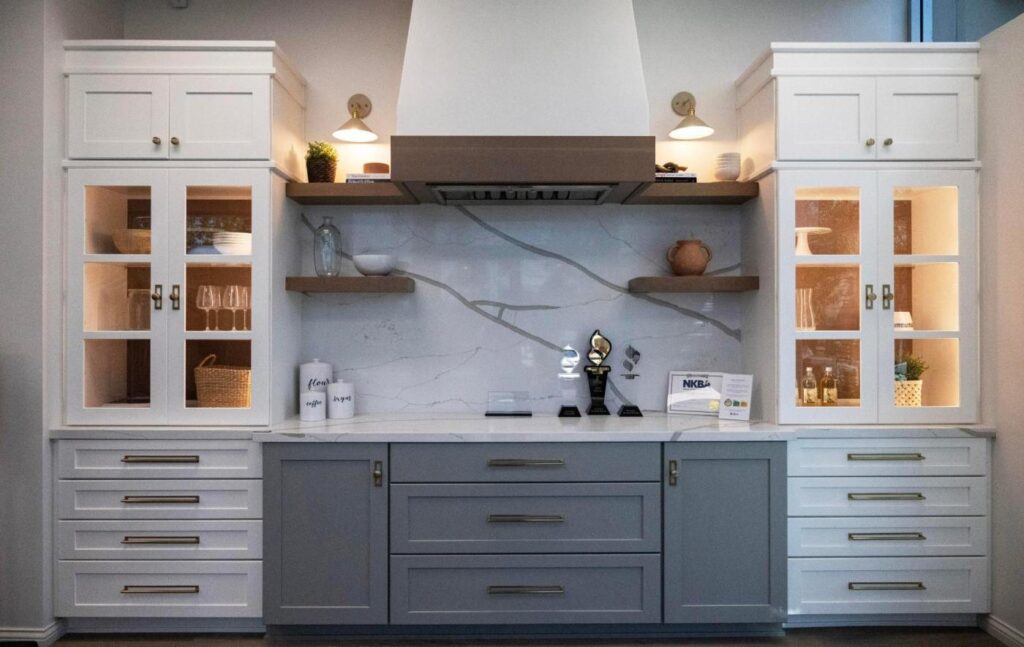 1. Sea Pointe Design & Remodel
576 Wald, Irvine; 949-647-4306; seapointe.com
With a design showroom in Irvine stocked with samples of everything from cabinetry to stains to tile, Sea Pointe aims to simplify the remodeling process for clients.
"We try to bring everything to them so that they don't end up commuting all over Orange County looking for materials," says Lauren Mills, the company's director of design and client relations. "Even if we don't have something in our showroom, we go get them on behalf of our clients, including samples from other vendors."
Kitchens and bathrooms are a specialty for this design/build firm, which has been in business since 1986. With its long history in Orange County, Sea Pointe sees about 50% of its projects come in based on referrals and repeat clients.
"My favorite projects to remodel are the ones that we're remodeling again," says Mills. "Every year we get a handful of clients where we remodeled their kitchen 20 years ago and they're looking to remodel their kitchen again, just to be more current with style or trends, and they come back to us."
Right now, Sea Pointe is continuing to see requests to open up kitchens for greater gathering space and enlarging bathrooms to give them a spa-like feel. In addition to free standing tubs and large, glass showers, bathroom requests are often including heated tile floors. "It is really popular on the East Coast and it's really popular where there's snow," says Mills, "but it's also great because it's an energy-efficient way to heat a primary bath or a bedroom because it's low voltage heating."
2. Mr. Cabinet Care
4375 E. La Palma Ave., Anaheim; 714-942-1245; mrcabinetcare.com
Founded in 1987, family-owned Mr. Cabinet Care is one of Orange County's go-to spots for custom cabinets and kitchen remodels. In addition to making its cabinets at the company's 24,000 square foot factory/showroom in Anaheim, Mr. Cabinet Care offers general contracting services, including electrical and plumbing work.
The range of projects the company handles extends from cabinet refacing to countertop installation to full kitchen remodels. Note that the company does not do cabinet repairs or paint cabinets already installed in your kitchen.
Call or email to request an in-home consultation, where the designer will provide samples, take measurements and discuss options in a 60-to-90-minute meeting.
The showroom is open to the public on weekdays from 9 a.m. to 5 p.m. and Saturdays from 11 a.m. to 4 p.m. Sunday visits are available by appointment only.
3. Cabinet Wholesalers
4510 E. La Palma Ave., Anaheim; 714-880-8503; 1800cabinetwholesalers.com
"As our name would suggest, when we first started out, we just sold cabinets," says Eirik Orman, owner and president of Anaheim Hills-based Cabinet Wholesalers. Eventually, though, the company pivoted to full remodels, specializing in kitchens and bathrooms. "We found out that people just wanted someone to take control of the whole job."
As general contractors, Cabinet Wholesalers has handled everything from rental properties to high-end, single family homes. The company has seven designers on staff, a 2,500-square foot showroom that's open seven days a week, cabinetry for every budget and financing options.
Plus, Orman notes, Cabinet Wholesales offers good warranties on its products, something that might have led to their high reviews on Google and Yelp.
"If there's ever an issue down the road, they just call us and we send one of our service people out to take care of it," he says. Needless to say, repeat and referral clients are a significant part of Cabinet Wholesalers' business. "Some people," says Orman, "we've done up to maybe three different homes from them."