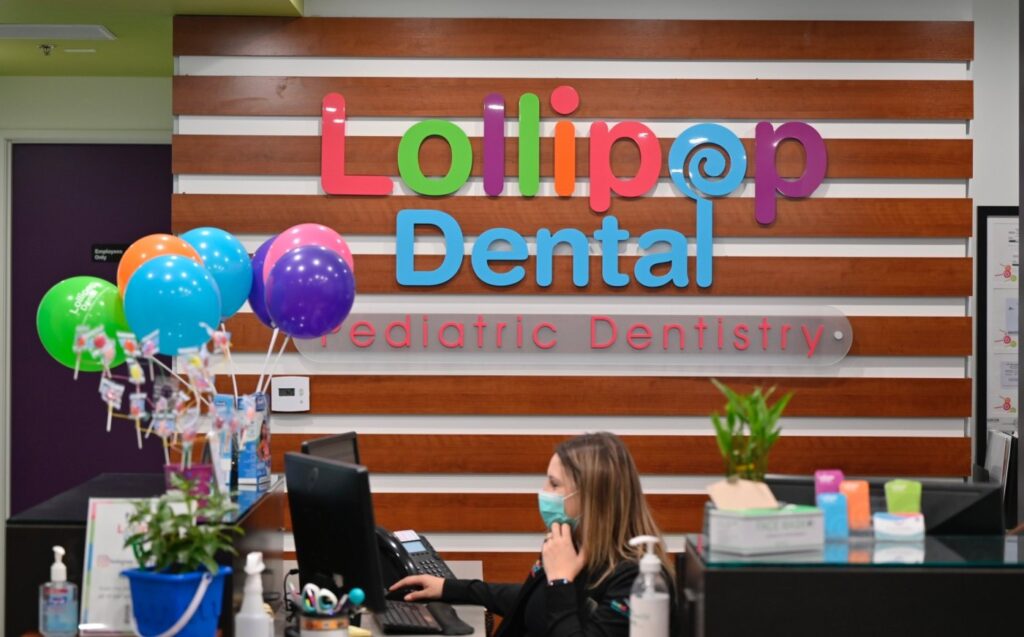 1. Lollipop Dental
Multiple locations; lollipopdental.com
Going to the dentist for adults can be stressful. Going to the dentist for kids can be really scary. It's a good reason why teaching kids good dental health and safety are the main objectives at Lollipop Dental.
Helping kids understand good dental habits and getting them used to seeing a dentist is essential to lifelong oral health, so even kids getting their first teeth are welcome at the practice's multiple locations. With each visit, staff members help teach kids how to brush and floss properly twice daily, and each visit features a fluoride treatment to strengthen and protect a child's teeth, as well as dental sealants on the back molars that can last for years.
Kids can walk into a Lollipop office and feel like it's a kid-friendly environment. While parents can relax in knowing dental services are provided with 100 percent safe, clean water, meeting EPA regulatory standards and keeping their children from exposure to potentially harmful micro bacteria.
"They do an excellent job of accommodating my 3-year-old boy and 7-year-old daughter. My kids enjoy going to the dentist now!" wrote Yelp reviewer Maxx O. of Newport Beach. T.P. of Garden Grove wrote "This place is super kid friendly, clean, and inviting." And Jenny P. of Monrovia wrote, "They always make my child feel very comfortable so he never minds coming to have his teeth cleaned."
2. Jason Cellars, DDS, Seacliff Dental
18652 Florida St #300,Huntington Beach; 714-848-4247; jasoncellarsdds.com
With a goal to make every patient feel confident and comfortable, Jason Cellars, DDS, has provided patients a warm and welcoming environment to get quality dental care with the most modern and high-tech equipment and procedures available for nearly 30 years and staff stay current with the latest dental technology.
Because Cellars is a cosmetic dentist, he was able to see how a healthy smile can change someone and how bad information and negative situations in life can seriously affect people's oral health.
Cellars' Huntington Beach office provides comprehensive and preventative dental care as well as cosmetic dentistry, and staff make sure each patient has been able to fully discuss, and fully understands all treatment, with minimal wait times. Services include dental exams, cleanings, teeth whitening, fillings, crowns, bridges, dentures, dental implants, Invisalign, tooth extractions, and emergency dental care.
3. Draper Family Dentistry, San Clemente
629 Camino De Los Mares, San Clemente; 949-248-5555; jondraperdds.com
It's a sense of family that drives dentist Jon Draper's practice in San Clemente. A sense of someone looking out for you and taking care of you when you need it.
Draper's office features a staff with the most advanced educations in dentistry, and who use the most cutting edge dental technology to always aim for the highest quality care in a pleasant environment. Services include comprehensive dental hygiene, teeth whitening, veneers, crowns, implants and root canals.
"We are new patients with no standing relationship in place, the staff were kind and accommodating as if we were patients for years," says Rob G. of Laguna Niguel in his Yelp review.
Sara L. of Santa Monica says "I have forever dreaded going to the dentist.  This is my third exam/cleaning with Dr. Draper's office and I truly look forward to my cleanings."