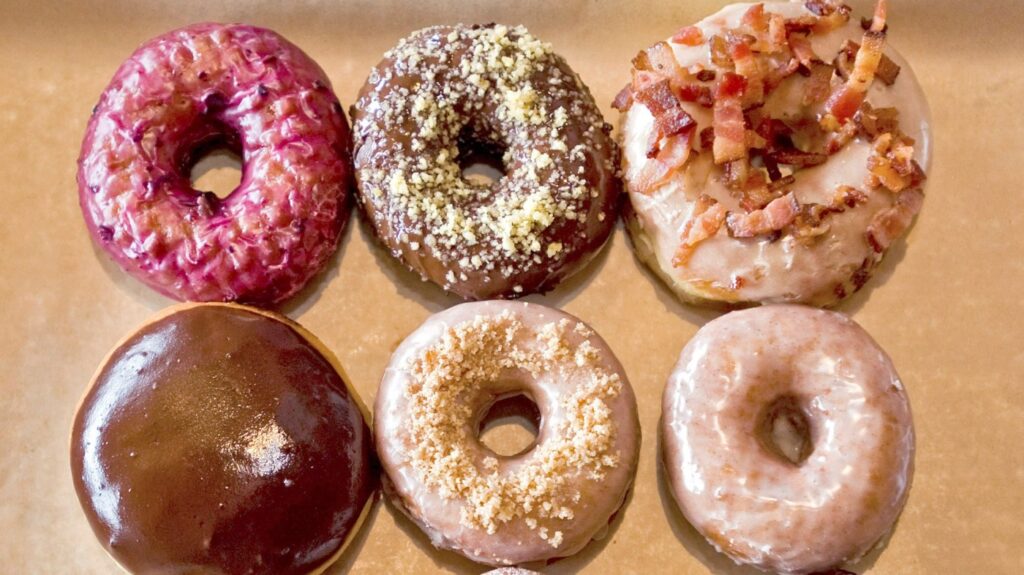 1. Sidecar Doughnuts & Coffee
270 E. 17th St., Costa Mesa; sidecardoughnuts.com
A previous winner in this category in the Best of Orange County contest, Sidecar Doughnuts & Coffee makes its doughnuts daily from scratch, using the best ingredients possible. Sidecar's flagship store opened in Costa Mesa in 2013. Before that, a renovated 1959 Helm's Bakery Truck was the creators' test kitchen as they asked friends and family over regularly for taste-test gatherings and drove their truck around town sharing fresh doughnuts with the neighbors.
"We are honored to receive this award. It is a testament to all the amazing people who work at Sidecar," said founder Sumter Pendergrast Jr. "They work extremely hard to ensure every customer receives a warm smile and a hot, fresh doughnut and coffee. We are incredibly grateful for all the support,"
The Costa Mesa store, located on the 17th Street corridor, is designed to have that "old city building" feel and provide a fun dining experience. The store is decorated with antique fixtures, vintage wallpaper, and hand-painted tile. What's even cooler is that customers can see how the doughnuts are made in the open kitchen and front-and-center prep spaces.
Sidecar's doughnuts have been featured on television programs like the Cooking Channel's "Unique Sweets" and the "Food Network's "Best Thing I Ever Ate." Flavors include maple bacon, butter & salt, Meyer lemon, choc-a-lot, Saigon cinnamon crumb, celebration cake, huckleberry, vanilla bean glazed and Susie's blueberry pancake.
Outside Orange Couty, Sidecar has locations in downtown L.A., Culver City, Santa Monica, Torrance and Del Mar.
2. The Donuttery
17420 Beach Blvd., Huntington Beach; www.thedonutteryhb.com
The Donuttery, which has been making doughnuts in Huntington Beach since 1970, is an industry leader known for its artisan doughnuts.
While offering a variety of traditional doughnuts, the Donuttery also makes fresh gluten-free, vegan, and vegan gluten-free doughnuts because customers and friends wanted dietary alternatives.
"We embraced the challenge by creating plant-based versions of the classic donuts we loved and testing tirelessly until we attained a yeast-raised and cake texture that was almost identical to their dairy counterparts … The vegan donuts we create are plant-based versions of classic favorites that we ourselves would only eat," the Donuttery website explains.
Traditional flavors include a bacon maple bar, chocolate chip bar, strawberry Nutella, classic glazed, sugar raised, and raspberry filled, plus a huge selection of cake doughnuts including unique flavors such as chocolate mint chip, red velvet cream cheese and carrot cake cream cheese. Three choices of malasadas and crullers also are on the menu.
3. Krispy Kreme Doughnuts
Multiple locations; krispykreme.com 
The mission statement on Krispy Kreme's website is simple and direct: "To make the most awesome doughnuts on the planet every single day."
Krispy Kreme is well-known for its original glazed doughnut and the company has a strong sense for community, charity, and sustainability.
Krispy Kreme donates unsold doughnuts in the United States to local food banks and partners with food organizations nationwide that distribute donations to people in need through their programs and services. Krispy Kreme donated $25,000 to the Natasha Foundation to support work fighting allergic diseases and in 2022, Employee Resource Groups supported several nonprofits including Habitat for Humanity, the Salvation Army, and Center of Hope.
Alfred of Orange County raved about their doughnuts on Yelp: "Yeah it's donuts. No. Not just any donuts. It's Krispy Kreme donuts! The one and only donut spot in which my mind and body says 'Screw it! No guilt!' In my humble and personal opinion, the best chain donut shop."
Related Articles

Best of Orange County 2023: Best happy hour

Best of Orange County 2023: Best Italian restaurant

Best of Orange County 2023: Best Mexican restaurant

Best of Orange County 2023: Best outdoor dining

Best of Orange County 2023: Best pizza