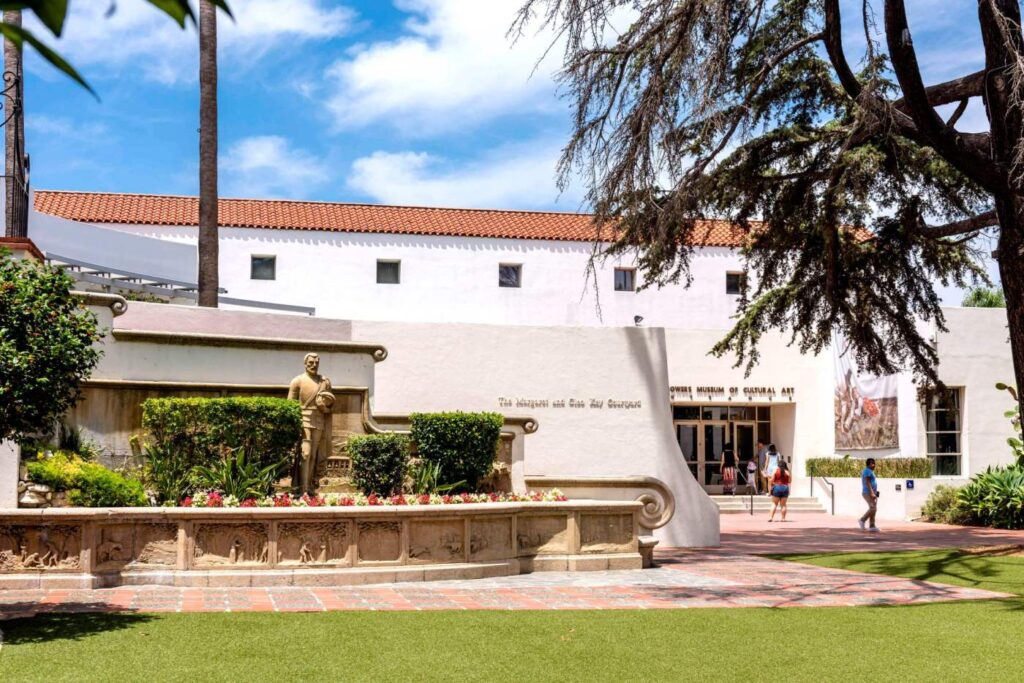 1. Bowers Museum
2002 N. Main St., Santa Ana; 714-567-3600; bowers.org
Bowers Museum has been a perennial winner in this category since Best of OC started 30 years ago. The oldest and largest museum in Orange County, it displays more than 90,000 artworks and artifacts, with major Oceanic, African, Native American, Asian, and pre-Columbian collections.
The ones devoted to California (plein air paintings, mission buildings) hark back to The Bowers' initial focus on OC history after opening in 1936. A remodel in the 1990s brought a new wing, a permanent Chinese exhibition, additional galleries for special exhibitions, event venues, an auditorium and a children's museum. Another expansion in 2007 added more exhibition space and galleries.
"We strive to provide a comprehensive understanding of global cultures," says Anne Shih, board of governors chairwoman, with items "that highlight the richness and diversity of human creativity." Permanent collections spotlight Mexican ceramics, Chinese silver jewelry and textiles, Pacific Island headhunters, temple murals, gemstone carvings and more. Shih says The Bowers "offers a truly immersive experience, transporting visitors through time and space to explore the wonders of civilizations."
Over the past year, the gallery spaces were refurbished to accommodate larger and more diverse exhibitions. Bowers also offers educational programs, workshops, and lectures. "Whether you're a seasoned art enthusiast, a student eager to learn, or a family looking for an enriching experience, Bowers Museum has something to offer you," Shih says.
— George A. Paul
2. Orange County Museum of Art
3333 Avenue of the Arts, Costa Mesa; ocma.art
From the late 1960s to the 1990s, the Orange County Museum of Art was known as the Newport Harbor Art Museum. Since then, OCMA has garnered a reputation for focusing on living artists at major points in their careers.
October will mark a year since the museum relocated to a dazzling, $100 million facility at Segerstrom Center for the Arts. Exhibits rotate every few months. The Tony Lewis exhibition "Casual T" (Calvin and Hobbs comic collages and graphite pieces) and the abstract layered paintings of Jennifer Guidi's "And So It Is" are among those currently on display. The 4,500+-piece permanent collection spotlights 20th and 21st Century artists with ties to California. Major holdings include pop art, minimalism and modernism works and more.
Workshops, film series, performances, monthly events such as Art Happy Hour/Pop Up Talks and Family Fun art making are all part of OCMA programming. Private tours can be requested for a fee.
3. Richard Nixon Presidential Library and Museum
18001 Yorba Linda Blvd., Yorba Linda; 714-983-9120; nixonlibrary.gov
The Nixon Library and Museum opened in 1990. It provides a comprehensive look at Nixon's life and presidency, with millions of documents, extensive recorded conversations ("White House tapes"), plus other audio and video broadcast recordings. Nixon Foundation President & CEO Jim Byron says the interactive gallery exhibits — renovated for the first time in 2016 — "explore profound events that shaped America and the world" and "create an unforgettable and enlightening experience for visitors."
The facility presents a concert series on Sundays. Last May, a campaign to raise money for future expansions was announced during a dinner honoring POWs from the Vietnam War. That coincided with the limited run exhibit "Captured: Shot Down in Vietnam."
For locals, viewing the Nixon birthplace, burial site, presidential helicopter and elsewhere provides "a unique blend of history and personal connection to the area" since he was "the only U.S. President born and raised in California — right here in Orange County."