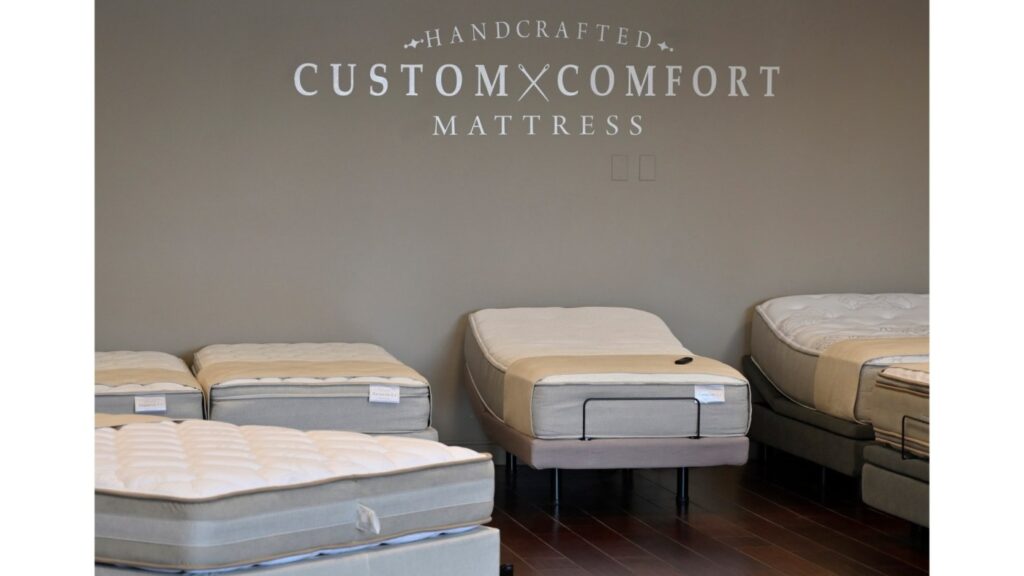 1. Custom Comfort Mattress
Multiple locations; customcomfortmattress.com
With a hometown advantage, perhaps it's unsurprising that Custom Comfort is a favorite of Orange County Register readers.
"I think most of us delivered the paper when we were kids," says Gary Trudell, the ninth of 10 siblings who grew up in Fullerton. It was Gary's older brothers, Mel and Marty, both of whom worked at a local mattress factory as teens, who began building double-sided mattresses in their garage. Today, Custom Comfort makes its classic, hand-tufted products in a 60,000-square foot factory in Orange with a staff that includes production people who have been with the company for more than 30 years.
"We do our best to keep and retain our employees because it's a craft," Trudell says.
Custom Comfort is the rare company that makes, sells and delivers its own mattresses and that has advantages. "I tell people that we still build a traditional American craftsman style, but we just added a little modern innovation so that you can get that suppleness, that contouring," Trudell says.
Customers are fitted for mattresses at one of Custom Comfort's eight showrooms, six of which are located in Orange County. From there, they can find mattresses available at a price to fit their budget.
"Because we build and sell on a direct basis, we have a full range of price points," he says. When your mattress is ready, delivery service is complimentary and includes the removal of your old mattress and installation of a new one.
2. Sleep Number
Multiple locations; sleepnumber.com
For those who keep a tech-forward home and have a keen interest in the latest sleep science developments, Sleep Number consistently delivers products that are in line with both. The company's beds offer solutions for a wide range of issues that impact quality of sleep, from snoring to cold feet. Meanwhile, SleepIQ technology allows you to gain insight on your sleep patterns and health.
Mattress from the Climate 360 series, launched in the fall of 2022, have the ability to cool down and warm up the bed to the individual needs of sleep partners. Last April, Sleep Number announced the latest incarnation of its smart bed, which uses sensors and AI to discern sleep patterns as they change and adjust features like firmness and temperature accordingly.
For those who want more than just the smart mattress, Sleep Number's latest advancements in furniture include beds with adjustable lighting, built-in bluetooth speakers and wireless and USB charging stations.
3. Hadley Olivia
31896 Plaza Drive, Suite D1; San Juan Capistrano; 949-488-8000; hadleyolivia.com
"We're a little different from the big chain stores because we're a very nimble company," says Ronnie Lane, CEO of San Juan Capistrano mattress superstore Hadley Olivia.
Eighteen years ago, Lane and his father founded the company as Comfort Gallery with a variety of products to promote back health. The 2008 financial crisis prompted a shift in focus to mattresses and, a handful of years later, they renamed the business in honor of Lane's oldest daughter.
Luxury mattress brands like Aireloom, Kluft and Vispring are big sellers here, but the inventory includes products for a wide range of budgets.
"We hand select every single mattress that we carry in our store to find the best value for the different price points," says Lane. And, while his father has since retired, Hadley Olivia is still very much a family business with both his mother and brother on board. (In 2021, Lane opened a Costa Mesa store, H. Alora Luxury Beds named for his second daughter.)