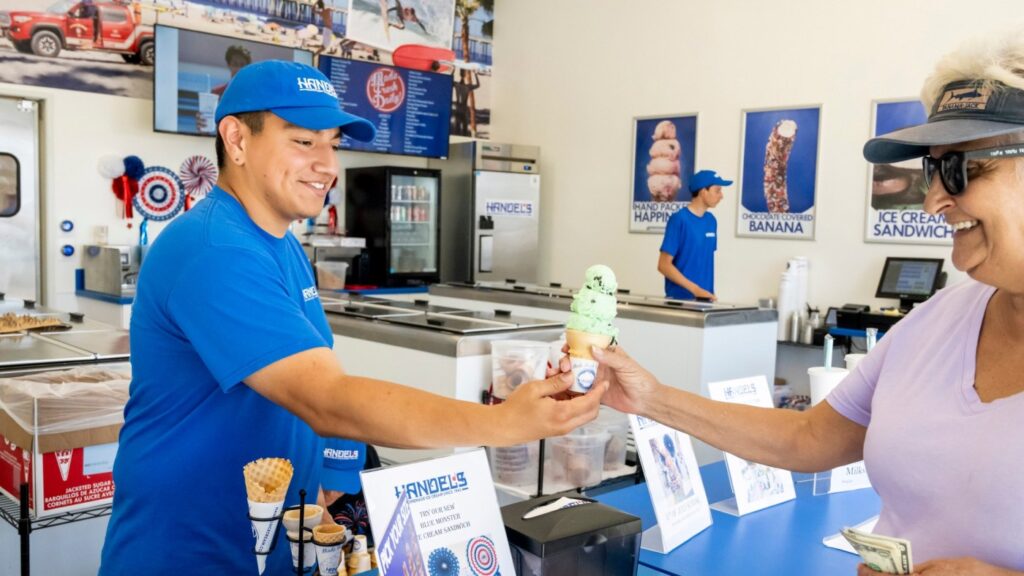 1. Handel's Homemade Ice Cream & Yogurt
Multiple locations; handelsicecream.com
When Alice Handel began creating the ice cream that made her the toast of Youngstown, Ohio, she never guessed it would lead to this.
More than 75 years later, Handel's Homemade Ice Cream and Yogurt has seven stores in Orange County and 110 stores in 11 states.
Unlike so-called "scoop shops,"  where the ice cream is delivered in tubs, "we use the exact same recipes (as Alice Handel) made one batch at a time in every store," says Zach Leffers, one of the company's owners. "We have the tagline: 'We don't skimp.'"
Not all recipes are Alice originals, though Leffers says she created plenty. Handel's has more than 175 flavors, including seasonal tastes, and 48 at any given time.
"You might go into a store and lose one favorite and come out with a new one," Leffers said.
One that  is always in demand, Leffers said, is Graham Central Station, featuring a graham cracker swirl and chocolate covered honeycomb candies.
Monkey Business is another with banana cake batter ice cream using fresh bananas, caramel ripple and brownie pieces.
"Every year we'll take a few flavors off and add more," Leffers said, estimating that over the years there have been about 250.
Leffers said one of the reasons for Handel's popularity is its community involvement.
"We love being in the community," he said. "That's our market. We work with tons of nonprofits."
2. Yogurtland
Multiple locations; www.yogurt-land.com
Building on the concept that no one knows their flavor palate like the individual, Korean immigrant Steve Chang broke down barriers, literally, when he created his first self-serve frozen yogurt shop in Fullerton in 2006.
Chang took down the counters in front of his frozen yogurt machines and let patrons create their own combinations of yogurt, fruits and toppings built to taste.
The innovation didn't stop there. Yogurtland became the first chain to add fresh fruit to the toppings bar. Stores can have upwards of 30 toppings, such as chocolate bits, gummies, nuts, granola and syrups.
"At Yogurtland, we are continuing to fulfill our vision of sharing love, joy and hope to our customers — one cup of frozen yogurt at a time," said Brittany Knollmiller, head of marketing at Yogurtland, which has more than 250 stores. "We are so grateful for the unwavering support and loyalty from fans."
There are more than 250 flavors, including seasonal, holiday and "mystery" flavors.
3. House of Yogurt
369 E. 17th St., Costa Mesa; 949-335-5565; houseofyogurt.com
Homemade and house-blended flavors highlight the selections at this family-owned shop in Costa Mesa.
House of Yogurt, which opened in 2008, says on its website, "We take extra care in blending our own House Secret Recipes to give you the superior taste you've come to love."
The shop features 14 flavors from which to choose, including staples such as salted caramel and vanilla cake batter. You never know what flavors might rotate through, such as red velvet, juicy peach, cotton candy or root beer float.
There is also a wide variety of toppings and waffle cones can be added to cups.
Customers can transform their frozen yogurt treats into smoothies. There are also non-diary, gluten-free and no-sugar-added options for patrons with special diets.
The store has also formed a partnership with Project Giving Light, a nonprofit that serves homeless and underprivileged kids. Among the services are birthday boxes delivered not only in Orange County but to 40 cities and growing.
Related Articles

Best of Orange County 2023: Best happy hour

Best of Orange County 2023: Best Italian restaurant

Best of Orange County 2023: Best Mexican restaurant

Best of Orange County 2023: Best outdoor dining

Best of Orange County 2023: Best pizza