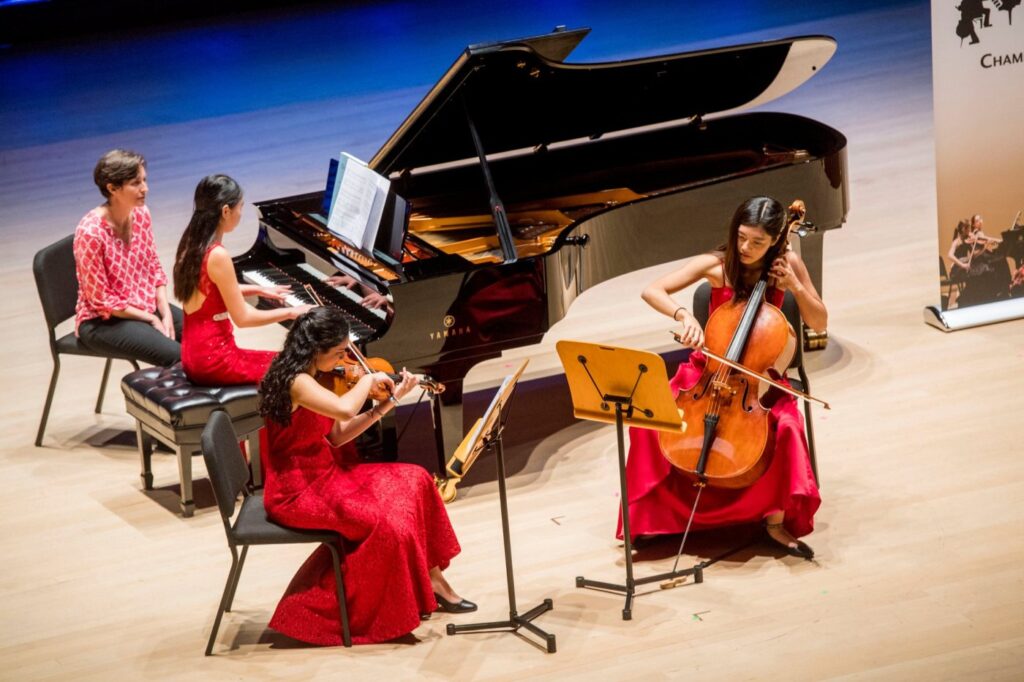 1. Soka Performing Arts Center
1 University Drive, Aliso Viejo; 949-480-4278; performingarts.soka.edu
A back-to-back winner in this category, Soka Performing Arts Center has steadily become one of Orange County's premiere music venues over its dozen-year history. Paul Williams, Kenny Barron, and Diane Schuur all recently appeared at the 1,000-capacity concert hall. Marketing and Communications Manager Jaime Spataro says the staff aims to make patrons "feel at home" and "every performance an unforgettable experience."
Soka Performing Arts Center regularly hosts Sunday concerts by the Pacific Symphony. It presents the West Coast's only classical solo piano series and just partnered with the San Diego Symphony. The facility also comprises a black box theatre typically utilized for family and kid-centric fare. Arts outreach programs are geared towards local students in grades 2-12 so they can experience orchestras, world music and more for free. Soka Performing Arts Center regularly engages with small organizations, local community members and other arts groups to broaden its reach, says Spataro.
Sound and lighting upgrades were implemented within the hall to elevate the shows to "new heights," Spataro says. Penny Cuff of Perris, who saw the Pacific Symphony perform last year, calls the venue's Italian village-inspired design "lovely and beautiful, with spectacular fountains outside. I really enjoyed being there."
LeAnn Rimes, the Kronos Quartet, Roger McGuinn of The Byrds, the Silkroad Ensemble feat. Rhiannon Giddens, Dean Torrence and the Surf City All Stars, and Alan Broadbent Trio are all part of the new season. Courtesy shuttles are an added benefit for patrons.
— George A. Paul
2. The Observatory
3503 S. Harbor Blvd., Santa Ana; 714-957-0600; observatoryoc.com
Open since 2011 in a building that once housed the Galaxy Theatre, the Observatory presents nearly 400 events annually in its main venue and the smaller Contellation Room. It often serves as an incubator for musicians with burgeoning fan bases who later appear at Coachella. There are multiple bars and patios. Bookings range from rock, indie and metal to rap, hip-hop, electronic music and beyond.
Tom See, president of venues at Live Nation, says the larger room's unique layout gives it a "super intimate feel," which helps make it special. "Sightlines are nearly perfect from anywhere" and "it offers a fan-artist connection that you just won't get anywhere else." Indeed. Watching The Fixx from an upper tier in 2022 still provided a clear vantage point. Other British alt-rock legacy acts (the Waterboys, Public Image Limited) have reveled in the Observatory atmosphere.
Having two stages fosters variety. "We've got up-and-coming TikTok stars in the [300-capacity] Constellation Room and can also welcome 6,000 fans for a festival in the lot," See says.
3. FivePoint Amphitheatre
14800 Chinon, Irvine; livenation.com
Six years after opening as an interim venue, FivePoint continues to bring superstar music talent to OC. Located next to the Great Park and adjacent to public transit, the summer show slate featured Smashing Pumpkins, Dave Matthews Band, Weezer, The Offspring, Darius Rucker, and Snoop Dogg, among others.
"There's nothing better than enjoying a concert in an incredible outdoor environment and this venue consistently delivers for the nearly 300,000 fans we host each season," says Live Nation's Tom See.
He considers FivePoint's "park-like atmosphere that is completely unique among live music venues" a major draw. When people walk into the plaza, "they can hang out, enjoy the communal experience of attending the show, play cornhole and enjoy great local food trucks. … At some shows, we add a band or dance floor for folks to enjoy before the headliner."
Assorted upgrades (parking, cabanas, private bar) are available to elevate the overall experience and a streamlined entry process makes it "easier than ever" for fans to get inside these days.