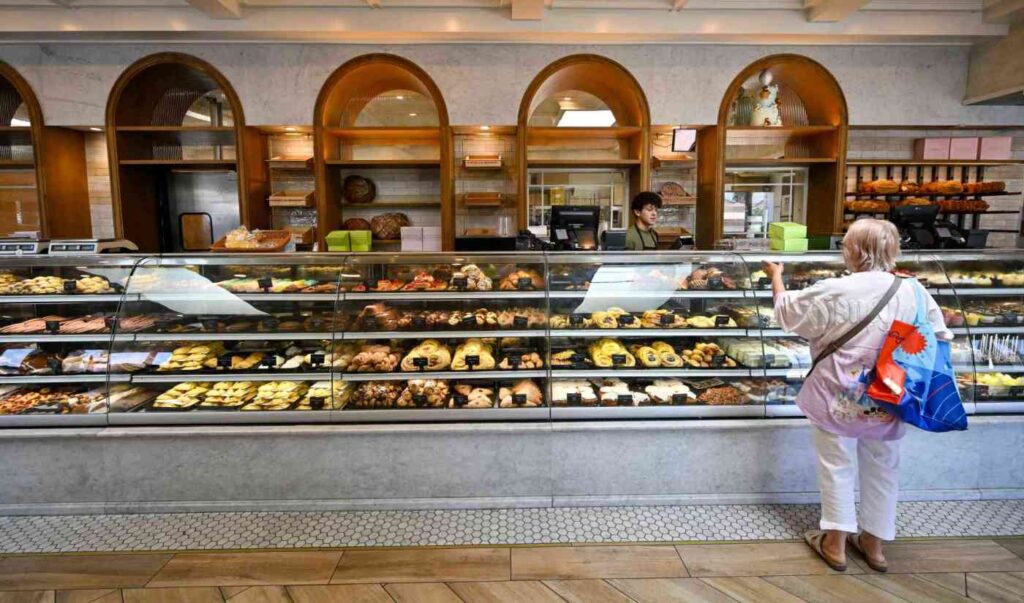 1. Katella Bakery, Deli & Restaurant
4470 Katella Ave., Los Alamitos; 562-594-8611; katellabakery.com
Katella Bakery, Deli & Restaurant is a landmark eatery in Los Alamitos and one of the first authentic Jewish bakeries in Orange County. Katella Bakery, Deli & Restaurant was founded by Sam and Shirley Ratman, Holocaust survivors who immigrated to America in 1950 from Eastern Europe, after living in a displaced persons camp following World War II.
Sam, who died in 1984, worked as a baker and Shirley, who died in 2006, cooked to make extra money. The couple bought a bakery in the Los Angeles Fairfax district and in 1965 opened the Katella Deli. Today, their three sons Larry, Allan and Harold continue to run the family business and honor the food traditions of their late parents.
The restaurant serves family-style meals and fresh baked rye bread, challah bread, cakes and pastries. Many of the traditional meals and Jewish favorites served are Shirley's original recipes: matzo ball soup, potato latkes, sweet and sour cabbage, and chicken soup. The restaurant also is known for having fabulous pastrami and corned beef sandwiches.
Katella Bakery is open daily from 7 a.m. to 9 p.m., was recently remodeled, has a coffee bar and offers outdoor dining. It's a great place to enjoy traditional eastern European specialty pastries and a huge variety of cookies. More than 200 items are made from scratch every day. Don't forget to buy a jar of their signature cinnamon sugar bagel chips.
2. Porto's Bakery & Cafe
Multiple locations; portosbakery.com
Also a top winner in the Bakery category last year, Porto's Bakery and Café remains a favorite spot to enjoy cakes, pastries and other bakery treats like tarts, croissants, cheese rolls, breads, and Cuban empanadas and potato balls. New specialties include a strawberry pistachio tartlet, dulce de leche cake roll, sweet churro croissant, and guava rose pastries.
Porto's Bakery is the legacy of the late Rosa Porto, a Cuban immigrant who opened her first Porto's Bakery in Echo Park. After immigrating to America from Cuba with her husband, Porto sold homemade cakes to friends and relatives from her home while trying to make ends meet. Rosa Porto passed away in 2019, but her recipes and those handed down from her native Spanish mother remain a part of the successful family-run bakery business.
Customers nationwide can enjoy Porto's treats through the Porto's Bake at Home program in which unbaked, frozen pastries are shipped to customers who bake them at home.
3. Scratch Bakery Cafe
Laguna Hills, Newport Beach; scratchbakerycafe.com
"I'd like to thank all the readers for their continued patronage and support," said Ronnie Givargis, owner of Scratch Bakery Café, an artisan bakery that makes handcrafted breads and pastries daily for breakfast and lunch. "Literally everything is made from scratch."
Scratch Bakery Café offers scones, cakes, cookies, croissants, cream puffs, fresh fruit tarts, bear claws, cinnamon rolls and muffins, plus breakfast sandwiches and breakfast burritos, hot and cold sandwiches, soups and salads. Sourdough, marble rye, wheat and gluten-free are among the bread offerings. Scratch also offers an expansive coffee menu with coffees, teas and blended frappes. Scratch buys organic, local, and small-producer items whenever possible and uses as many sustainably produced ingredients as possible.
"Come try our Knock Knock, which is our take on a Ding Dong. We can't keep them in stock," Givargis said, adding that the homemade English muffin breakfast sandwich is another customer favorite. "The muffins are almost like pillows, they are very spongy. They're addictive," he said.
Related Articles

Best of Orange County 2023: Best bar

Best of Orange County 2023: Best barbecue

Best of Orange County 2023: Best breakfast

Best of Orange County 2023: Best brunch

Best of Orange County 2023: Best burger