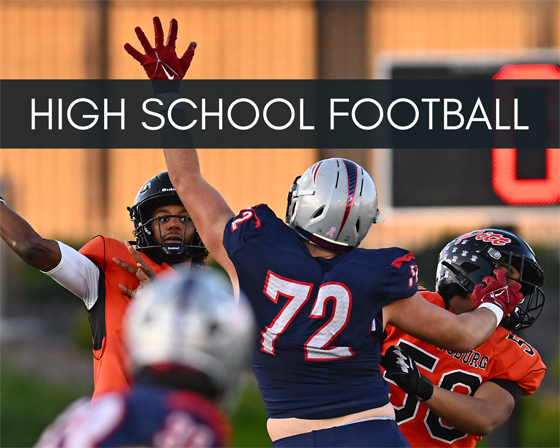 LA HABRA – The fog from La Habra's entrance to the field moments before the opening kickoff lingered over the field for a few minutes Friday. But the Highlanders never seemed to get completely out of the fog in a 28-14 loss to Murrieta Mesa in the quarterfinals of the CIF-SS Division 6 playoffs.
Kenneth Saucedo threw for 285 yards and two touchdowns for the Highlanders (7-5), but La Habra could never generate a ground game, finishing with 69 yards.
"I think from the get-go we were out of sorts on offense," La Habra coach Frank Mazzotta said. "I don't think we ever got comfortable on offense."
The Highlanders' first possession ended with a punt from their 3-yard line. Their first score, which tied the game 7-7 in the secondquarter, came on a busted play.
Saucedo, who was sacked twice, was flushed from the pocket, avoided the pressure and was able to find Daniel Gleason in the end zone without a defender within 10 yards of him, and hit him for a 38-yard touchdown.
"It was a scramble," Mazzotta said. "The defense sometimes loses a guy, and he did his job and stayed deep."
The Rams (6-6) answered back by driving 60 yards in nine plays. A 20-yard completion from Julian Silva to Royal Randolph on fourth-and-3 set up a 10-yard scoring run by Derrick Hart with 6:13 left.
Saucedo engineered a response, as a 39-yard completion to Bryce Whitley keyed a 75-yard drive that ended with a 20-yard scoring pass to Sanaa Aguirre.
C.J. Moran, who ran for 94 yards for Murrieta Mesa, put the Rams back on top with his second rushing touchdown, a 2-yard run late in the third quarter.
Saucedo tried once again to rise to the occasion. His 28-yard completion to Aguirre gave the Highlanders first-and-goal at the 7 to start the fourth quarter with Mesa leading 21-14.
An incompletion and a net of minus-3 yards on two runs left La Habra with fourth-and-goal at the 10. Saucedo managed to thread a bullet to Whitley at the goal line, but it was ruled that the ball never crossed the goal line even though his feet were in the end zone when he was stopped inside the 1-yard line.
4 and goal and the call was short by the ref. Mesa leads 21-14 in the 4th. @fjuhsd @SGVNSports @LHHighlanders @LaHabraHS @LHHSAthletics1 @LAHABRA_ASB @OCSportsZone @ocvarsity @ocvarsityguy @SteveFryer @James_Escarcega pic.twitter.com/BoFAzpRj8m
— Steve Garcia (@PrincipalSteveG) November 11, 2023
The vociferous Highlanders were given two unsportsmanlike conduct penalties after their reaction to the ruling. La Habra had 13penalties for 130 yards.
"We just made too many mistakes to win a football game," Mazzotta said.
Related Articles

Newbury Park tops Foothill in football playoffs with 4 TDs by Shane Rosenthal in 4th quarter

Centennial football routs Orange Lutheran

San Juan Hills football rallies past Citrus Valley

Simi Valley football stops Crean Lutheran to reach Division 6 semifinals

La Serna football takes control early, rolls to win over Trabuco Hills in CIF-SS quarterfinals