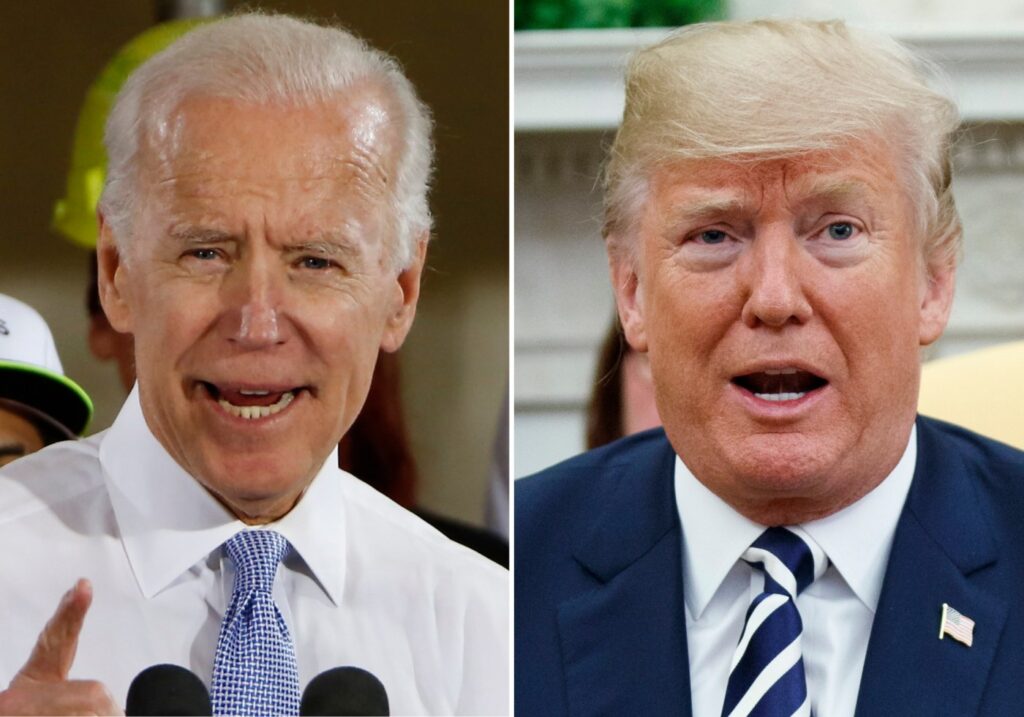 There's a well-worn joke, ageist no doubt, that goes something like this: "I hope to die peacefully in my sleep like my grandpa, not screaming like the other people in the car he was driving."
Chances are the time will come when we have to sit with our elderly parents and tell them it's no longer safe for them to drive. "The Talk," as it's known, is difficult. Taking a person's car keys away is a blow to their pride and independence. Yet, to do otherwise would be irresponsible. For their safety, as well as the safety of other motorists and pedestrians, when the time comes all of us have to step up and do the right thing.
Which brings me to President Biden and former President Trump. With both men the likely nominees of their respective political parties next year, it's up to We the People to have "The Talk" with Biden and Trump since neither man seems willing to acknowledge reality.
To be blunt, it's painful watching President Biden struggle up and down the stairs of Air Force One, or mumble non sequiturs at his increasingly rare press conferences. When Biden reads a speech off a TelePrompter, it sounds as if he's seeing the words for the first time. His demeanor is more hostage video than leader of the Free World.
A Biden victory in the '24 Election means the United States will be led by a husk of a man, reminiscent of the wobbly, doddering Soviet premier, Leonid Brezhnev, snoring through summit meetings with two aides literally propping him up at May Day parades. If President Biden's family and the leadership of his party can't or won't tell him it's time to exit gracefully, the American people will have to do so on Election Day.
And that brings us to Donald Trump.
He should have his keys taken away, too, but for very different reasons.
Former President Trump is younger than Joe Biden, but that doesn't make him young. Should Trump win in 2024 he would serve until he's 82. Yes, he seems to have boundless energy. But is this the energy of a fit and healthy leader or a hyper-manic, vengeful narcissist intent on settling scores?
His all-night Truth Social spleen-venting rants are atypical behavior for a man of any age, especially someone in their late 70s. That he has the stamina to stay up all night ranting on-line is not proof of his fitness for the most demanding job in the world, just the opposite, it confirms his unfitness.
And then there are the indictments.
Personally, I think the New York case over hush-money to porn actress Stormy Daniels is a thin soup. But the Federal charges related to January 6th and the Georgia election interference cases are the most serious indictments in American history. Not since Aaron Burr was tried for treason has a high-ranking elected official been accused of subverting the foundational institutions the Country stands upon.
Another term for Joe Biden would see him steering the United States at 10-mph with his turn signal on. That is if he doesn't send us onto the sidewalk or into a school bus packed with kids.
A second Trump administration would be another white-knuckle hurtle with your lead-footed brother-in-law who insists on driving weaving in and out of traffic at warp speed always seconds away from taking us all off a cliff in a Thelma and Louise-style death plunge.
As a nation of a third of a billion who once gave the world giants like George Washington, James Madison, Abraham Lincoln, Theodore and Franklin Roosevelt and Dwight Eisenhower, can't we do better than Biden v. Trump?
"At least Biden's not a criminal!" Right?
Not so fast.
While Kevin McCarthy's recent impeachment ploy is more about fending off the craziest of the crazies in his own house coalition, the sad reality is the Bidens, all of them, including "the Big Guy," may be heading for disaster which would be a disaster for America.
Any objective survey of the allegations surrounding Hunter Biden's business dealings and the alleged millions that have gone to the Biden family, including the President's brother, James, his daughter-in-law and others, raise more red flags than a Zuma Beach riptide.
The President's insistence he "never" discussed his son's business affairs is so preposterous as to require no rebuttal. Hunter flies with his father on Air Force Two to China and back and Joe never asks, "By the way, Son, what were you doing in China while I was in my meetings?"
Four L.A. City Councilors have been sent to jail for less. If the facts merit prosecution, justice must be served.
To be as clear, I also believe former President Trump broke the law in the most un-American way, scheming to undo a legitimate election through intimidation and even violent insurrection. He called a mob to Washington, fired them up, pointed them towards the Capitol Building, then retreated to the Oval Office to watch the mayhem on TV while his foot soldiers stabbed police officers in the stomach with flag poles and thugs with a noose chanted, "Hang Mike Pence!"
Following up this disaster with a Biden indictment on pay-to-play would inflict a grievous wound to American Democracy.
Related Articles

Sacramento demonstrates perils of a supermajority with slew of harmful bills

Judge Jim Gray: A proposal for serious immigration reform

The Biden impeachment investigation begins: Letters

New initiative strikes at root of housing ills

Newsom clearly hasn't learned anything from his failed, flimsy COVID policies
Behind the scenes many Democrats believe Joe Biden needs to bow out of the race, which explains the recent flurry of age-related stories in the news. Lots of "off the record" or deep background phone calls and conversations are being held with reporters and columnists, possibly at the behest of California Governor Gavin Newsom and even Kamala Harris. So, there is a small chance the President might do the right thing and get out of the race.
Sadly, nothing short of multiple primary defeats in Iowa, New Hampshire and South Carolina can derail Donald Trump from winning the GOP nomination. Other than prison, of course.
One of the many remarkable aspects of America has been our ability to produce the right man at the right time; Washington at the very start, Lincoln during the Civil War, FDR during the Great Depression and Civil War. Sadly, there is nobody on the horizon to lead us out of our current ethical crisis. It's up to us to take the keys away from Donald Trump and Joe Biden. To do otherwise would be irresponsible and cowardly.
Doug McIntyre's column appears Sundays. His novel, "Frank's Shadow" is available at Barnes & Noble and Amazon. [email protected].