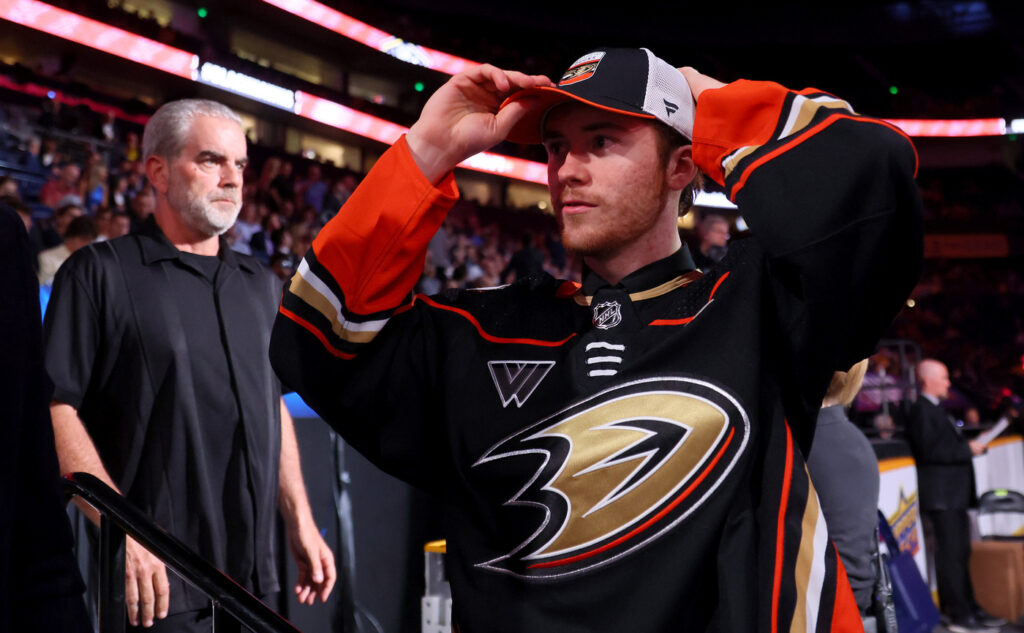 While a prospect tournament in the dying days of summer might not muster the exhilaration of the Stanley Cup Final, the Ducks continued to excel in the six-team Rookie Faceoff, capturing two of three matches in the Las Vegas area and improving to 14-2-3 in their last 17 such exhibitions.
A pair of 2023 draft selections for a franchise still very much in transition were among the top performers. Second-round selection Carey Terrance, who was also a junior lacrosse standout, spearheaded the Ducks' attack with four points in three games. Second overall pick Leo Carlsson, the rangy Swedish center the Ducks hope can fill some of the void left by Ryan Getzlaf's 2022 retirement, contributed a point per game. Defenseman Tristan Luneau, a 2022 second-rounder whose stock has risen sharply since his draft year, paced the Ducks in goals with a pair.
Next up for many of these ducklings will be integrating themselves into the flock at training camp, where familiar veterans like defenseman Cam Fowler and goaltender John Gibson will be joined by experienced acquisitions such as winger Alex Killorn and defenseman Radko Gudas. That process will begin Thursday when the on-ice portion of camp kicks off.
"It's another level at training camp and I think we're all going to be in a better spot now that we've experienced the rookie camp and gotten the ice and game action," said defenseman Olen Zellweger, who like Luneau and Pavel Mintyukov was selected as his Canadian junior league's top blue-liner last season.
The Ducks began their slate of games with a 4-2 victory over the host Vegas Golden Knights on Friday behind both of Luneau's goals as well as a power-play tally from Mintyukov and a short-handed score from power forward Coulson Pitre (No. 65 overall, 2023), the Ducks' plus-minus leader in the tourney.
"I thought that we were the better team the whole game," Carlsson said. "It was a good feeling all [throughout] the game," Carlsson said.
The Ducks fell to the Colorado Avalanche on Sunday, 5-2, before recovering to upend the Kings, 4-2, on Monday in a game that saw Carlsson record his first goal in a Ducks uniform. While he was the top-billed player in a match with other marquee talents, it was an unsigned camp invitee, goalie Tomas Suchanek, who sparkled with 29 saves behind a physical defense against the Ducks' arch-rival organization.
In sum, 14 of the 21 skaters who dressed for the Ducks scored at least one point, providing a testament to the balance of a group with high long-term expectations.
"I thought we played very well throughout the three games, obviously there was ups and downs," said hulking defenseman Connor Smith, a 6-foot-6-inch, 2023 fourth-round pick with grit to spare. "You can always have a dip or two, but the only thing that matters is getting back up to where you're at and what you're good at."
Related Articles

Ducks rookie camp loaded with several blue-chippers

Ducks sign Tristan Luneau to a 3-year, entry-level contract

Ducks sign Zack Kassian to professional tryout deal