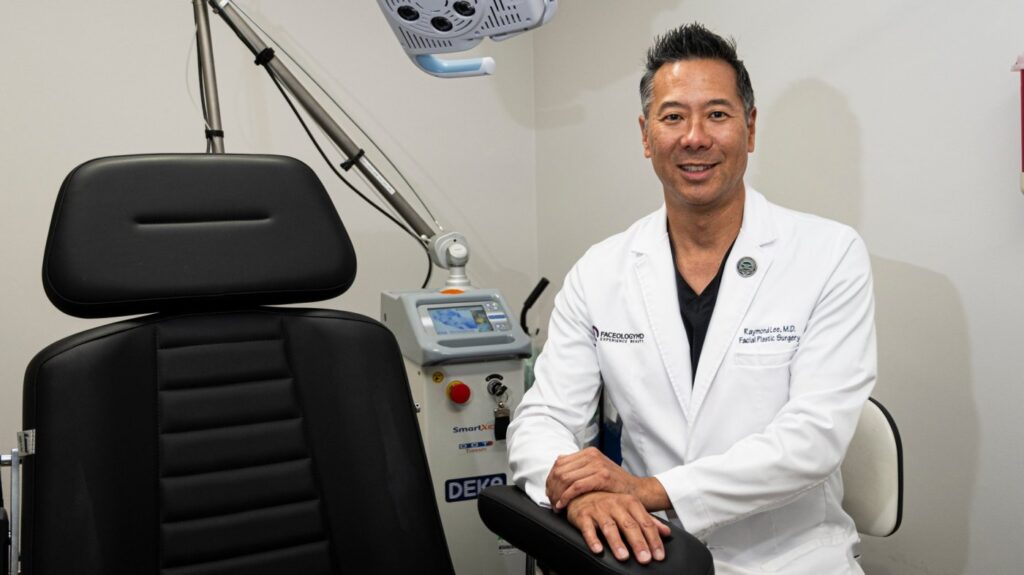 1. Dr. Raymond Lee, FaceologyMD
Newport Beach, Beverly Hills; 949-706-2277; faceologymd.com
Dr. Raymond Lee has dedicated his career specializing on facial rejuvenation procedures — like face and neck lifts. This has given him the chance to develop a deep understanding and expertise in this field.
As a double-board-certified facial plastic surgeon, he has performed more than 5,000 face and neck lifts.
At FaceologyMD, Lee has built a team of expert providers to address each aspect of the face, nose, head and neck. Most procedures are performed under local anesthesia and oral sedation or IV sedation, he says.
"We operate exclusively in our accredited ambulatory surgery center, offering the best in patient safety," he says. "Our experienced staff strives to create a comfortable and supportive environment where patients feel heard and understood and cared for throughout their surgical or non-surgical journey."
According to the FaceologyMD website, Lee has co-authored numerous medical articles and offered several professional presentations across the country to other plastic and cosmetic surgeons. He also volunteers his time and skill by performing reconstructive surgeries for acquired and congenital pediatric facial defects at the Angkor Hospital for Children in Siem Reap, Cambodia, and CURE International Hospital in the Dominican Republic.
Lee has won other recognitions, including previous Orange County Register Best of OC awards, Castle Connolly Top Doctor, Super Doctors and was the most sought-after facial plastic surgeon on RealSelf in 2022.
He's been practicing in Orange County since 2006.
2. Wenjing Liu, MD
360 San Miguel Drive, Ste. 410, Newport Beach; 949-200-6838; wliumd.com
Dr. Wenjing Liu knows about the eyes. As a board-certified ophthalmologist, she specializes in ophthalmic plastic and reconstructive surgery.
Her services include both surgical and non-surgical treatment options. From brow lifts and stye removal to skin cancer reconstruction and lesion removal, her focus is on the eyelids and area immediately surrounding the eye. Her practice's nonsurgical offerings include Botox, fat grafting, fillers, Latisse, microneedling and more.
"Dr. Liu was amazing. I had a difficult procedure with another doctor and Dr. Liu was able to correct what the other doctor couldn't. Dr. Liu was extremely thorough with my options and details of the procedure. She exceeded my expectation from the beginning to the end. I would trust her with my family and friends," according to a testimonial on her website.
As a specialist in oculoplastic surgery, Liu is often invited to speak at industry conferences to share advancements in research and surgical techniques.
3. Facial Aesthetic Concepts
San Clemente, Aliso Viejo, Rancho Santa Margarita; 949-430-7535; facorangecounty.com
In 1980, Dr. Richard Gangnes opened Facial Aesthetic Concepts in San Clemente. Since then, Facial Aesthetic Concepts has been offering patients a central source for all their esthetic needs. The centers are made up of a team of medical professionals, including board-certified surgeons, dermatologic specialists and medical estheticians.
"Facial Aesthetic Concepts utilizes the latest facial and body rejuvenation techniques in aesthetic surgery and non-surgical procedures to improve skin tone and elasticity, repair sun damage, eliminate stubborn fat, or simply smoothing fine lines and wrinkles," according to its website.
All their estheticians are also trained in cosmeceutical ingredients technology and can review home regimens to offer suggestions for improvement.
Facial Aesthetic Concepts services include non-surgical cosmetic procedures like Botox, Kybella, injectable fillers, hyperbaric oxygen therapy and laser skin treatment. Med spa services include chemical peels, facials, waxing, microneedling, microblading and more. They also offer facial, breast and body plastic surgery as well as hair restoration.
Related Articles

Best of Orange County 2023: Best charitable organization

Best of Orange County 2023: Best cruise line

Best of Orange County 2023: Best day spa

Best of Orange County 2023: Best jeweler/jewelry store

Best of Orange County 2023: Best O.C. resort