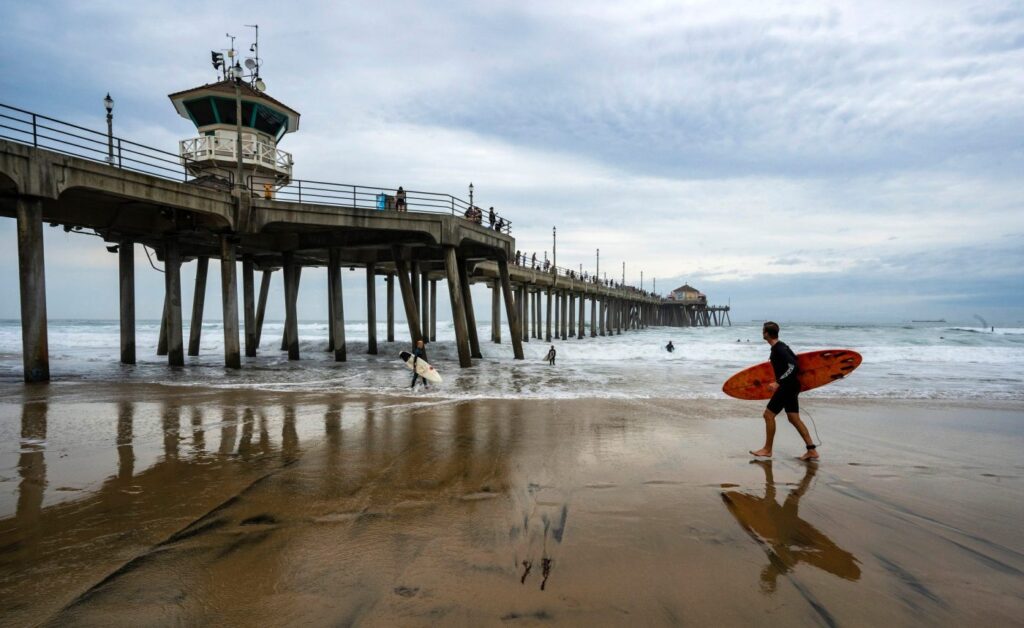 1. Huntington City Beach
Pacific Coast Highway between Beach Boulevard and Seapoint Street, Huntington Beach; surfcityusa.com/things-to-do/beaches/huntington-city-beach
Along more than 40 miles of coastline, hundreds of named beaches, and a number of legendary surf spots, Orange County has plenty of world class locales to entice beach lovers. And yet, maybe the most iconic of these and always somewhere in the top rankings of Register readers is City Beach in Huntington Beach.
A bronzed, broad-shouldered beast, City Beach features expansive stretches of sand rolling into miles of surf breaks that cater to all levels of surfer. Evenings feature classic instagram-worthysunsets, and centering it all is the historic 1,850-foot Huntington Beach Pier. It may lack the surf breaks of the Trestles and the Wedge, or the intimacy and diversity of SouthCounty, but no beach puts it all together with all the amenities like HB.
Maybe the best known, most photographed, photogenic and iconic stretch of Orange County beach, City Beach provides the pride and identity of Surf City. The southside of the Pier is home to the U.S. Open of Surfing, the largest pro surfing tournament in the world, as well as pro beach volleyball tournaments, seasonal concerts, Fourth of July fireworks, car shows, and the Pacific Air Show.There are also miles of paved walkways for walking, running, biking or roller-blading.
Coming soon, the Broad Street Oyster Company is replacing the former Ruby's site at the end of the pier.
— Greg Mellen
2. Main Beach, Laguna Beach
Pacific Coast Highway between Laguna Avenue and Cliff Drive, Laguna Beach; 949-497-9229; visitlagunabeach.com/things-to-do/beaches/main-beach
The instantly recognizable, bright white hexagonal Laguna Beach lifeguard station is only the first eye-grabber at Laguna's gem of a beach. Not as big as some of its neighbors, Laguna'sbiggest beach packs a lot into its downtown space. Amenities include a grassy park, beach boardwalk, basketball and volleyball courts, tide pools and public art installations – it's Laguna,after all.
"It's such a great little spot," says Rachel O'Neill-Cusey, president and CEO of Visit Laguna Beach, noting the across-the-street dining spots and vibrant shopping district. "It's very eclectic."
Main Beach is one of a string of 30 separate named beaches in the city, each with distinct features and vibes. But just by itself, Main Beach is a "bucket list" destination according to the city.
It is also highly accessible from the free open-air trolley service with stops throughout the town.
3. Crystal Cove State Park
Pacific Coast Highway between Corona Del Mar and Laguna Beach; 949-494-3539; crystalcovestatepark.org
Crystal Cove has something for just about anyone who wants to take in varied coastal beach beauty. This is not your prototypical So Cal beach with all the beautiful people on parade.
"The reason Crystal Cove continues to be a top beach is it's so unique," said State Parks Naturalist Winter Bonnin. "The sand and rocky shore give it a romantic feel. You have thismagical environment with its big cliffs and promotories."
With secluded stretches of golden sands, craggy coastal formations, such as Pelican and Abalone points, some of the best tidepools anywhere and 2,400 acres of beach andbackcountry, Crystal Cove is a trove for naturalists.
The beach also has a unique Historic District, a 12.3-acre enclave of 46 cottages, built as a seaside colony in the 1930s. Docents and rangers offer educational and informational programs with guided hikes, tidepool walks and geology talks.
Related Articles

Best of Orange County 2023: Best amusement park ride

Best of Orange County 2023: Best downtown

Best of Orange County 2023: Best fair/festival

Best of Orange County 2023: Best farmers market

Best of Orange County 2023: Best golf course