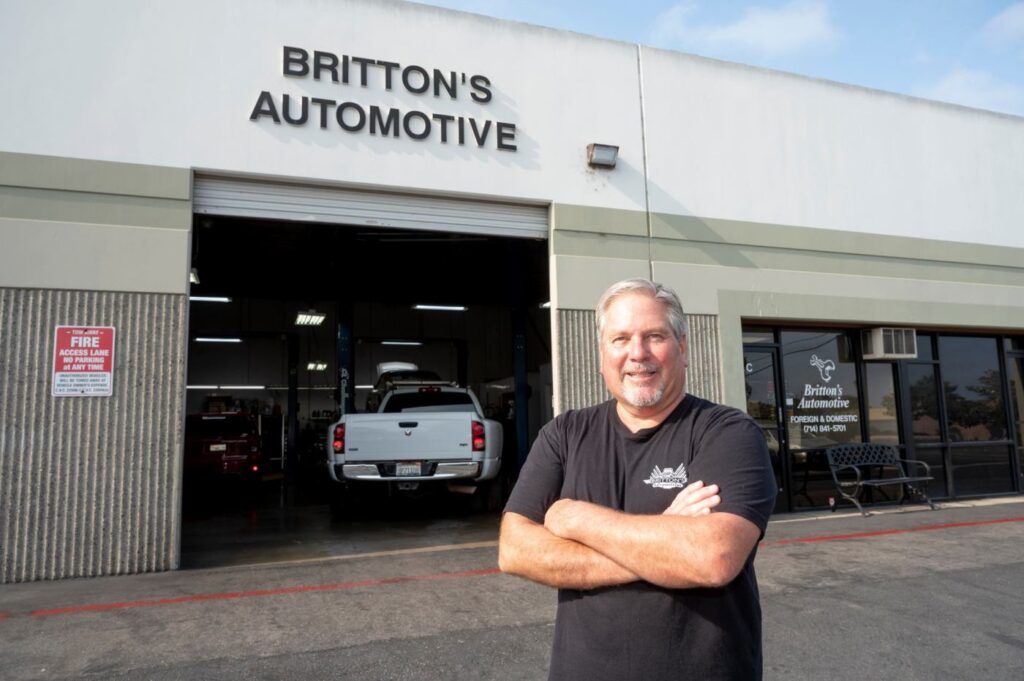 1. Britton's Automotive
17242 Gothard Street, Suite C, Huntington Beach; 714-841-5701; brittonsautomotive.com
Three decades is a long time to be fixing cars. It's a lot of spark plugs, belts, hoses, rings, valves and seals. It's a lot of dirt under the fingernails. And it's just the way owner Bruce Britton likes it.
Britton has been fixing cars since he was a teen, a hobby he picked up even before he was in high school from his older brother, and now as owner of Britton Automotive in Huntington Beach, it's a joy of not only fixing cars, but helping people understand their cars, from Hondas to Hummers.
"We're family oriented, honest, and educate customers," Britton says as the reasons his business has grown since 1985, much via word of mouth. "And we work with our heart and integrity. We value and care about every customer, 38 years in serving Huntington Beach."
The shop is described as a complete service shop, meaning it's certified and licensed to make any engine repair from transmissions to tune-ups. Britton's Automotive also repairs brakes, tires, suspension and axles.
For owners holding on to their older cars, Britton's offers a 90,000 miles maintenance and timing belt replacement. For those considering buying a used car, Britton's also offers a bumper-to-bumper inspection service to help a potential new buyer properly evaluate the car. A VIP rewards program is also available.
2. Goritz SixFix
1760 Monrovia Ave., Suite A12, Costa Mesa; 949-229-2695; sixfix-us.com
Porche drivers are people who usually know what they like. It starts with a fast German car. And they're not just owners, they're enthusiasts.
Goritz SixFix being voted second in the auto repair category means owners come to the service and engine shop because they've relied on it.
SIXFIX Owner/Operator Cornelius Göeritz trained as an intern at Porsche in Germany, then built his career in the U.S. rebuilding and tuning classic and iconic air-cooled 911s, slantnose Turbos, 959s & 935s. He briefly returned to Germany to expand his skills, but now runs his Costa Mesa shop "like a well-oiled machine," providing service work on all Porsche street cars as well as builds and rebuilds on racing models.
"Seeing our work being enjoyed and driven reliably," Goeritz says, "especially on the streets of Orange County, brings us great pride."
3. ExperTec Automotive
Anaheim, Costa Mesa, Huntington Beach; expertecautomotive.com
ExperTec Automotive must have fans. It's been one of Best of OC's top auto repair vote getters for six years.
Between its three family-owned locations, it's built a reputation for quality and customer service for its general repair services on pretty much any make or model of car, on anything under the hood and right down to the tires. Its service also includes fleet vehicles, classic cars and hot rods, and even hybrids.
The shop also provides financing options for people who need repairs now, but might not have the money to get them done otherwise.
And it's not just quality service that customers seem to like, it's also the way they're treated by ExperTec staff that makes them sing their praises.
"Trustworthy," "honest," and "capable" are the words a lot of Yelp reviews used. But also "very pleasant," and "very friendly" and "very good at explaining" read others.
Related Articles

Best of Orange County 2023: Automotive: Car dealership

Best of Orange County 2023: Education: Best career college/nursing school

Best of Orange County 2023: Education: Best career college/trade school

Best of Orange County 2023: Education: Best O.C. college/university

Best of Orange County 2023: Education: Best tutoring service