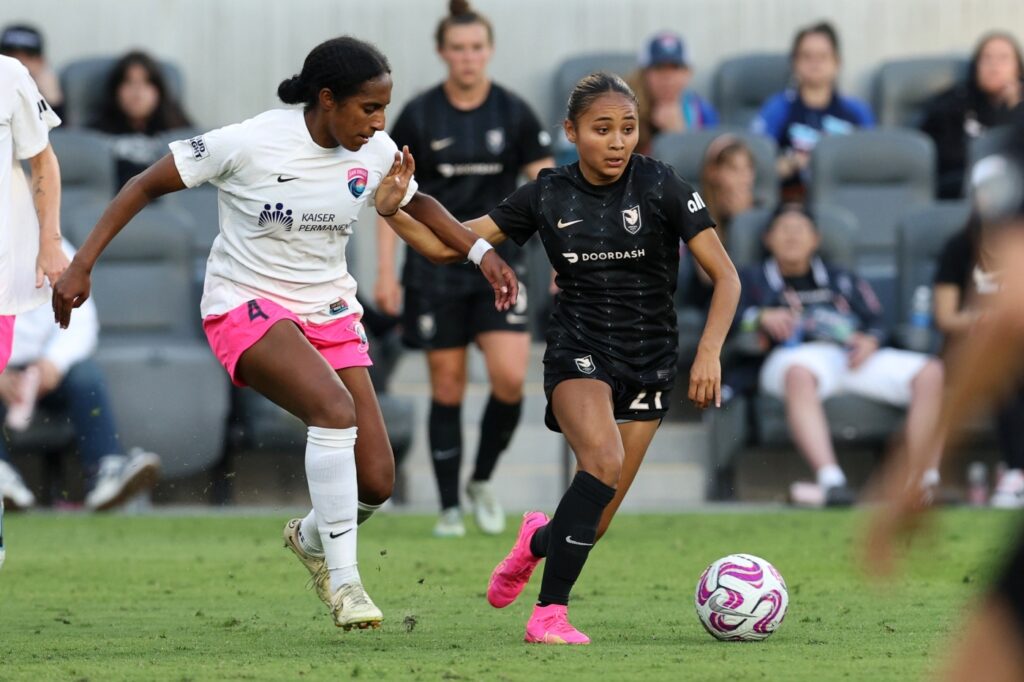 Alyssa Thompson continues adjusting to life as a professional soccer player who is also in her senior year of high school.
Thompson is heading into her final month as a high school student at Harvard-Westlake High and there's also work, which for her is as a forward for Angel City Football Club.
She's still working on the multitasking.
"Sometimes it's hard to manage and sometimes I feel like I got it down, it's kind of day-by-day," she said. "Right now, Angel City is really helpful with my school stuff, while getting me acclimated to the environment, which has been really nice."
"It's definitely hard, but nothing too bad. I'm taking it day by day, working hard in training, then going to school and working on my school work, then going home and being able to be with my friends and family."
Alyssa added that one difference this season is playing without her sister Giselle.
"When I'm home, it's easy to just go to go to soccer and then back home and have that balance," she said. "When I'm away, it's a little harder because I'm just playing soccer and doing school work. That's when it sometimes feels the most isolating, mainly because I'm not with my family. That's kind of normal, but I haven't been away from them for that long in a while.
"Also being away from my sister, because we would do a lot of things together regarding soccer. I've always felt like I had family with me everywhere I went, and that has changed this year."
Gisele Thompson was recently added to the U.S. U-20 National Team for the CONCACAF Championships later this month in Dominican Republic. Gisele spent time in preseason training camp with Angel City as a trialist.
One of Alyssa's goals this season is to make the World Cup roster. Her name was mentioned as potentially being called into U-20 camp, since she is age-eligible for the tournament. However, she wasn't selected, with the focus remaining on the World Cup roster.
"There were conversations, but right now, while she's playing as many minutes as she is for us and we like to think she's still being considered for the senior team," said Angel City coach Freya Coombe said. "The decision was made for all of us that she stays in the club environment."
On the field, Thompson has been causing defenders problems. She was the NWSL's Rookie of the Month for March/April and she's had a goal in each of the last two league games. She leads Angel City (2-2-2, eight points) with three goals heading into Saturday's game against the Washington Spirit at BMO Stadium (7 p.m., Paramount+).
"She's been playing really well. She has definitely been able to make an impact early in games," Coombe said." We're seeing some variation of her game in terms of the spaces that she's attacking and where she looks threatening.
"She continues to get faced up, and cause problems for defenses, as well as take her opportunities, as we're seeing with her goals. We're seeing her develop in a defensive capacity, improving on both sides of the ball. Her defending is increasing and getting better as the weeks go on."
Related Articles

Angel City FC holds off Kansas City to record first home win of the season

Angel City FC hopes to get on track at home

Angel City FC, OL Reign play to scoreless draw in NWSL Challenge Cup

Angel City FC faces OL Reign again in Challenge Cup

Julie Ertz scores, Angel City FC manages tie with Portland