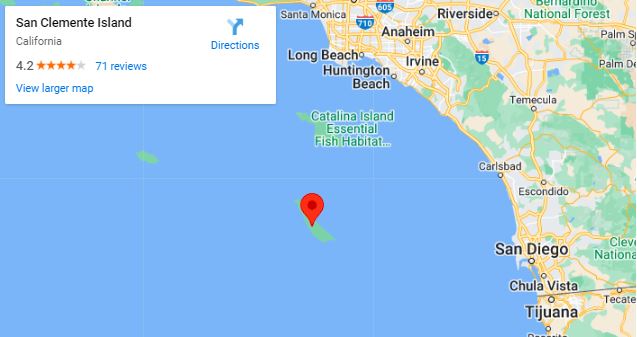 The Phoenix Air Learjet with three people aboard that went missing Wednesday near San Clemente Island was on a U.S. Navy training exercise, according to their employer.
The U.S. Coast Guard suspended its search Thursday. Officials said they had searched 334 square miles and found a debris field but no signs of any survivors after the plane went missing Wednesday morning about a mile southwest of San Clemente Island.
Watchstanders at the Coast Guard's Joint Harbor Operations Center in San Diego received the initial report of a downed aircraft at 7:53 a.m. Wednesday from Fleet Area Control and Surveillance Facility San Diego, reporting an aircraft emergency aboard the plane.
"The entire Phoenix Air Family grieves over this loss of our friends and fellow employees," Phoenix Air Group, Inc. of Cartersville, Georgia said in a statement.
The company identified the employees as Eric Tatman, Spencer Geerlings and Shane Garner.
Phoenix Air Group said the missing plane was one of two Learjets participating in the U.S. Navy training exercise. The other jet landed safely.
A U.S. Customs and Border Protection Air and Marine Operations aircraft and the USS San Diego diverted after hearing the emergency broadcast and began searching the area, the Coast Guard reported.
Also, an MH-60 Jayhawk aircrew from Coast Guard Sector San Diego and the crew aboard the U.S. Coast Guard Cutter Robert Ward, a 154-foot Fast Response Cutter homeported in Los Angeles/Long Beach, were launched and led the search.
Additionally, a U.S. Air Force C-130, multiple U.S. Air Force land and surface assets from 68th Rescue Squadron, and a U.S. Navy MH-60 Romeo helicopter from Helicopter Maritime Strike Squadron were launched and assisted in the search.
The area near San Clemente Island where the aircraft was reported down is considered part of Los Angeles County, and is south of Catalina Island.
Related Articles

Thumbs up to 'End of Watch' on highway signs for fallen officers

Marine veteran who fatally choked NYC subway rider Jordan Neely surrenders on manslaughter charge

Bulldog stolen by 4 masked assailants reunited with Ladera Heights owner

Coast Guard suspends search for plane with 3 passengers that crashed near San Clemente Island

Man pleads guilty to attacking couple in their San Juan Capistrano home, injuring Sheriff's Deputy