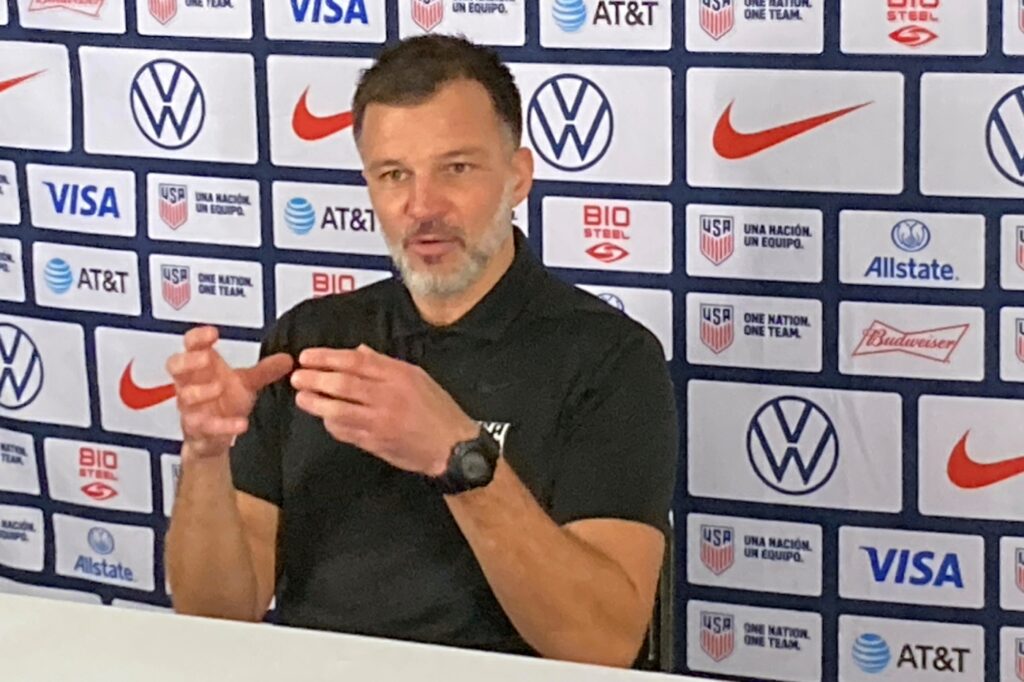 The January camp for the U.S. men's national soccer team can be viewed as a fresh start.
The Americans started reporting Friday and will play the first of two friendlies Wednesday against Serbia at 7 p.m. at BMO Stadium. The camp concludes with another friendly Saturday against Colombia at Dignity Health Sports Park.
What's new about this camp? Just about everything.
"There's a lot of new faces, including myself, and we're excited to build on what has happened in the World Cup and what's happened over the past four years," Vancouver Whitecaps defender Julian Gressel said. "I think everybody is eager to step in and make a name for themselves to be considered for the future."
For the first time since 2019, the camp will not be led by Gregg Berhalter. After leading the U.S. to the FIFA World Cup in Qatar, Berhalter has been replaced by assistant Anthony Hudson while U.S. Soccer concludes an investigation into a domestic violence incident involving Berhalter and a girlfriend, whom he later married, in 1991 and into the saga involving the parents of Gio Reyna.
Hudson, who has coached in Major League Soccer with the Colorado Rapids and the national teams of Bahrain and New Zealand, has taken over the reigns, at least for this shortened camp.
"It's really important for me to understand that it's not about me," Hudson said. "It's about this group of players that have an opportunity to come in this window and represent the national team and potentially there's some players in there that will do well and stay with us, and have a chance to compete at the next World Cup."
The U.S. will not have to qualify for the next World Cup, but starting next month will begin play in the CONCACAF Nations League and the Gold Cup in the summer.
Thirteen players are in camp looking to make their first senior national team appearance.
Paxten Aaronson, Galaxy defender Jalen Neal and San Jose midfielder Cade Cowell were members of the U.S. U-20 team that won the CONCACAF U-20 Championship and received their first senior call-ups.
"This is my first senior team camp, so just kind of getting used to the guys, getting used to the level and trying to make an impression," said Aaronson, who plays at Eintrach Frankfurt in Germany. "It's the first camp, there's a lot of young guys here and I'm really hungry to get after it and make a really good first impression and hopefully I can do that in the coming training (sessions).
"It's a dream of mine to make my senior debut, so I want to get my first cap, build momentum going into this really important cycle."
Aaronson, 19, is the younger brother of Leeds United midfielder Brendan Aaronson, who was a member of the World Cup team.
Hudson might have a different role, but the tactics and style of how the team will play isn't expected to change much.
"For us, it's the same style of play regardless of who's in right now," FC Cincinnati forward Brandon Vazquez said. "We're trying to push ourselves to be the best team possible. It's a great group of guys, everybody gets along really well and every time we step on the field, you can see that. The team chemistry is really there even though we have a lot of new faces."
The men's program has been in this situation before. After Bruce Arena resigned in 2017, Dave Sarachan was picked to serve as the interim coach until Berhalter was hired in 2018. Hudson said he has spoken with Sarachan regarding how he handled the interim role. Hudson added that it was a difficult decision to move into the role.
Related Articles

Galaxy midfielder Samuel Grandsir returns to France after two seasons

Rose Lavelle scores 2 goals, USWNT blanks New Zealand again

Galaxy's Jalen Neal excited about USMNT opportunity

LAFC, Bank of Montreal agree to $100M stadium naming rights deal

Charlotte FC defender Anton Walkes dies in Florida boat crash
"On one hand, this is a very prideful moment, and it's an honor to be in this position," Hudson said. "On the other side, the circumstances in which it comes about, I'm a very loyal person, and it's difficult for me. It's difficult for the staff.
"There's no coaching course or anything, really, to guide you in moments like this. This is a really different situation, and I just fall back on being honest. I have a lot of respect for Gregg, and he gave me this opportunity, so I don't know why my relationship would change. He's still a good man."
United States vs. Serbia
When: 7 p.m. Wednesday
Where: BMO Stadium, Los Angeles
TV: HBO Max, Peacock, Universo