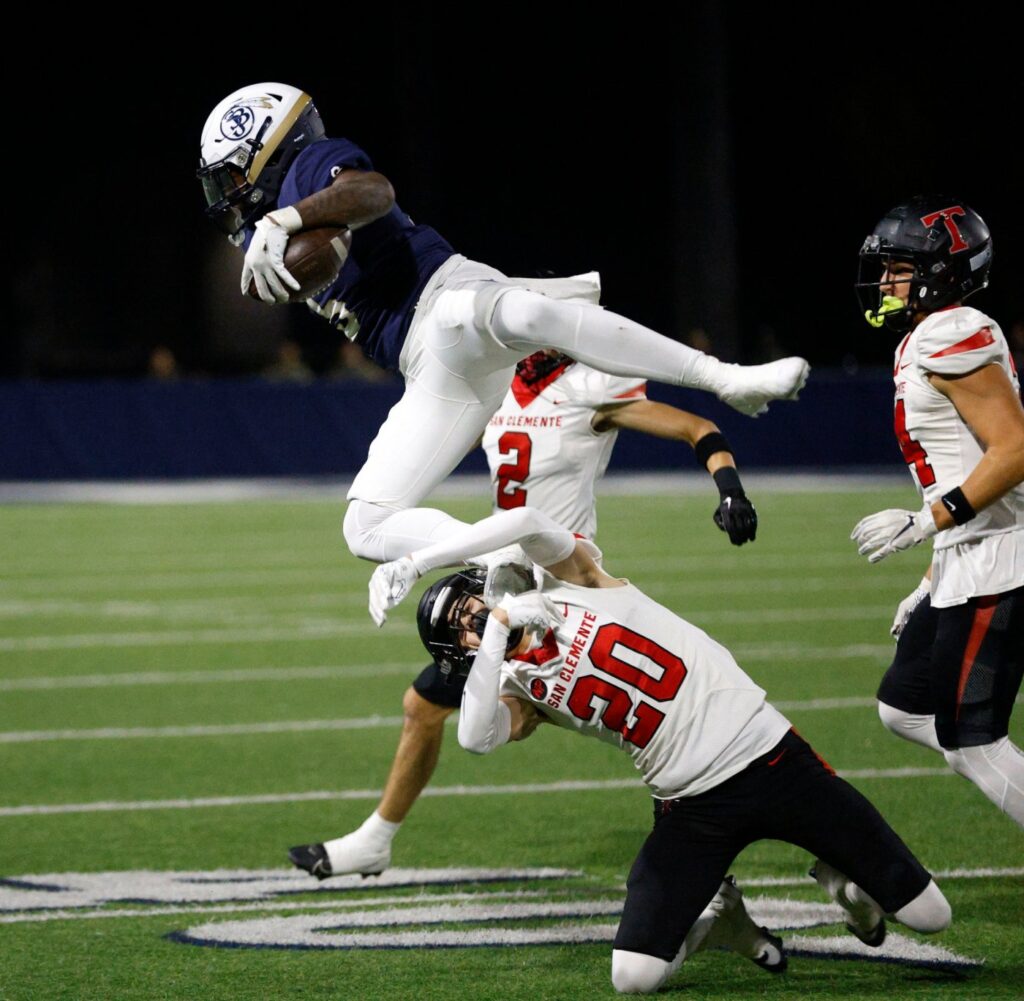 BELLFLOWER — Before Friday's CIF Southern-Section Division 1 playoff opener versus San Clemente, St. John Bosco head coach Jason Negro looked forward to something new.
"For us, it's a fresh opponent," Negro said. "We haven't seen San Clemente since 2019. To be able to come into this game to play a new opponent, it's pretty exciting. They have one of the best backs in all of Orange County if not the Southern California area. They are really aggressive on defense, kind of a stingy group."
That proved true, but the Braves still prevailed 35-10 over San Clemente after trailing for most of the first half.
The Braves will be home against Centennial of Corona in the semifinals next Friday, Nov. 17.
St. John Bosco quarterback Caleb Sanchez completed 15 of 25 passes for 128 yards and a touchdown. He threw two interceptions. Stacy Dobbins caught seven passes for 48 yards.
Chauncey Sylvester ran for 99 yards and a touchdown on eight carries.
The Braves (10-1) struggled early. A fast defense and strong coverage by the San Clemente backfield of Max Bollard, Riley Kelley and Matai Tagoa'i left few opportunities for Sanchez.
San Clemente (9-2) scored on its second possession. After a 62-yard, five-minute drive, Dylan Mills found Drew Shanley for an 11-yard touchdown pass and a 7-0 lead after the extra point.
Mills completed 9 of 21 passes for 76 yards and a touchdown. He threw one interception.
Running back Aiden Rubin rushed for 56 yards on 21 carries. Holden Stakston caught three passes for 36 yards.
San Clemente wasted no time adding to its lead. On Bosco's third play after the San Clemente touchdown, Broderick Redden reeled in a tipped Caleb Sanchez pass to get the ball back for the Tritons. That led to a Max Gonzales 35-yard field goal and a 10-0 second-quarter lead.
Nearing the middle of the second quarter, the Braves had only mustered 11 yards of offense against San Clemente.
Bosco started to swing the momentum with 7:30 left in the half, driving 84 yards in under four minutes. On third-and-4, Sanchez connected with Viliamu-Asa in the corner of the end zone for a 4-yard touchdown pass to cut the San Clemente lead to 10-7.
After forcing San Clemente into a three-and-out, Bosco's Peyton Woodyard returned the punt 74 yards to the Triton 1-yard line. On the next play, Cameron Jones punched the ball in to give the Braves their first lead of the game, 14-10.
Bosco looked like it would add to its lead with 20 seconds left in the first half, but on second-and-5, from the Bosco 10, Matai Tagoa'i intercepted Sanchez in the end zone to keep the score 14-10 Braves to end the half.
Bosco pulled away in the opening 31 seconds of the second half. First, Sylvester broke free on a 49-yard touchdown run. On the Tritons' first pass after the kickoff, Tamal Johnson returned the Braves' only interception 7-yards for another touchdown. Just four seconds had ticked off the game clock, and only 31 seconds had elapsed since the kickoff to open the second half. Thatgave St. John Bosco a quick 28-10 lead.
Khalil Warren put the game away for Bosco with 4:02 left on a 16-yard touchdown run for a 35-10 final.
Related Articles

Servite football tops Long Beach Poly in playoffs with thrilling finish in overtime

Chaminade football holds off Villa Park to reach Division 3 semifinals

Serra football and Cincere Rhaney hold off Los Alamitos in Division 2 quarterfinals

Sierra Canyon football beats Santa Margarita for first Division 1 playoff win

High school football playoffs: Early scores from Friday's CIF-SS quarterfinals