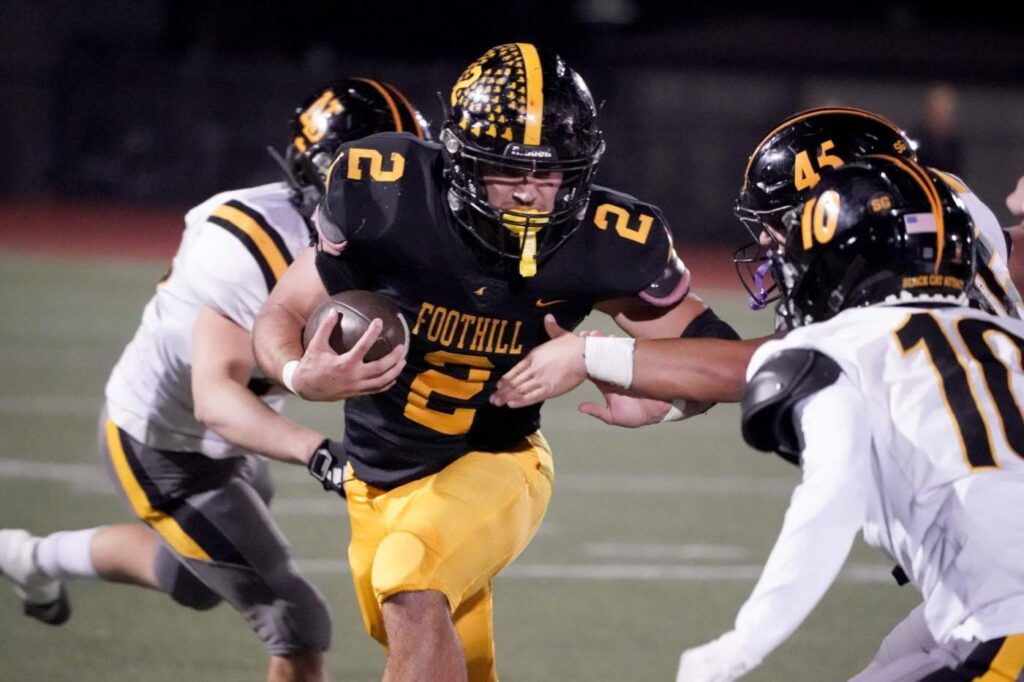 PLACENTIA — Things were looking up for the Foothill football team after Aaron Mitchell's 55-yard touchdown run on the first play of the fourth quarter gave the Knights a 15-point advantage.
That was Newbury Park's Shane Rosenthal's cue to leave his mark on the game.
The junior wide receiver scored four fourth-quarter touchdowns, including a 93-yard kickoff return that gave the Panthers the lead for good in a 41-34 win over Foothill on Friday in the CIF-SS Division 5 quarterfinals at Valencia High.
"I never stopped believing that we were going to come back," Newbury Park coach Joe Smigiel said. "As bad as we were playing, as bad as things were going, bottom line is, I knew we were going to make a run."
Rosenthal and the team's quarterback, sophomore Brady Smigiel, connected for three touchdowns in the decisive quarter. Rosenthal finished with 15 receptions for 216 yards.
The contest had four second-half lead changes.
"We felt good about everything we were doing," Foothill coach Doug Case said. "We didn't change our scheme, it was just one-on-one matchups that they won. They beat us over the top, they have a good quarterback and some good receivers."
The 6-foot-4 Smigiel threw for 337 yards and three touchdowns.
Newbury Park (9-3) will host Thousand Oaks in the Division 5 semifinals Friday, Nov. 17.
Mitchell, who scored four touchdowns in last week's first-round win over Aquinas, ran for 195 yards on 24 carries with three touchdowns.
Nicholas Miali passed for 242 yards and one touchdown, a 68-yarder to Nico Mancini. Miali also had three costly interceptions.
The Knights (7-5) had four turnovers total, arguably their biggest one came while holding a 28-26 advantage when they fumbled a kickoff return.
"We made some mistakes in the fourth quarter and it was probably the difference in the ball game," Case said.
A few plays after the fumble on the kickoff, Rosenthal caught a 30-yard TD pass from Smigiel to give the Panthers a 33-28 lead.
Foothill answered with a 30-yard touchdown run by Mitchell gave the Knights a 34-33 lead after they failed to convert a 2-point conversion.
The Panthers turned to Rosenthal once again, and he took the kickoff 93 yards for a TD. Newbury Park was successful on its 2-point conversion, giving it a seven-point cushion, 41-34.
Newbury Park scored on its opening drive, which was capped by a 4-yard run by Jaxon McKinney and also got a 33-yard field goal by Bohdie Ing for a quick 10-0 lead.
Big plays got Foothill back in the game. Miali found Mancini for a 68-yard TD pass late in the second quarter and then Connor Pietras had a 58-yard Interception return that gave Foothill its first lead, 14-13 in the third.
Miali connected with Mancini for a 43-yard pass on a third-down play and then Mitchell scored on a 15-yard run to make it 21-13.
Related Articles

Centennial football routs Orange Lutheran

La Habra football comes up short on key drive, loses to Murrieta Mesa in quarterfinals

San Juan Hills football rallies past Citrus Valley

Simi Valley football stops Crean Lutheran to reach Division 6 semifinals

La Serna football takes control early, rolls to win over Trabuco Hills in CIF-SS quarterfinals