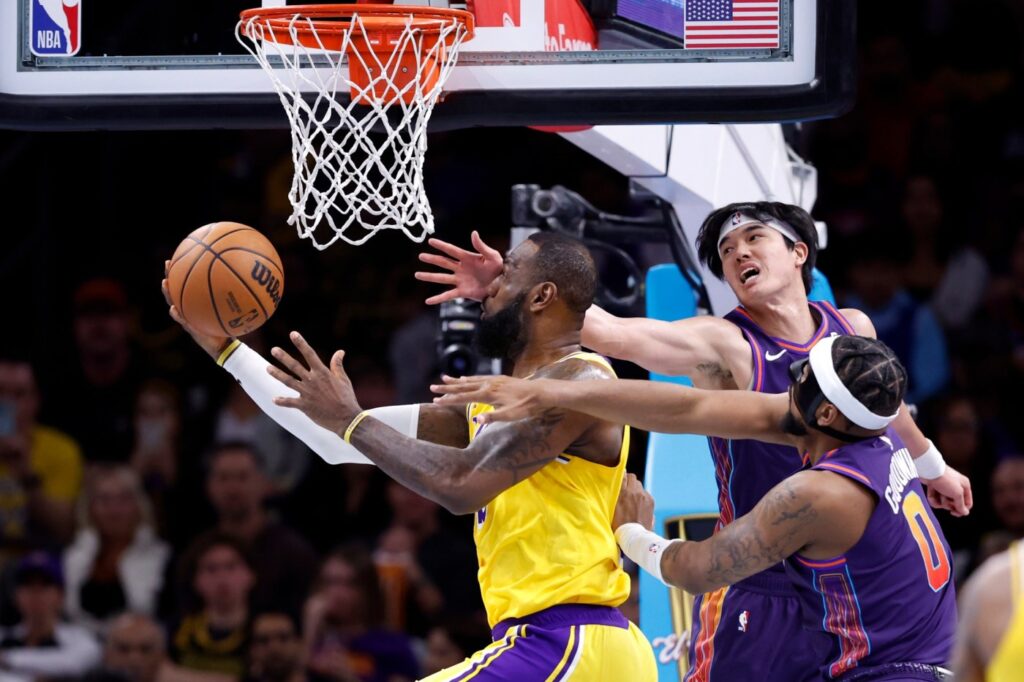 PHOENIX — For most of Friday night, it looked like the Lakers' matchup with the Phoenix Suns was going to go how the previous three games of their road trip did.
There was another starting lineup, their fourth in as many games. The Lakers once again faced a double-digit deficit in the first quarter and lost the rebounding battle (52-43).
But with LeBron James (32 points, 11 rebounds, six assists) and D'Angelo Russell (19 points, nine assists, three rebounds) doing the heavy lifting early, they kept the game close enough for it not to be out of reach.
And when they needed to turn up the pressure on both ends of the floor, they did, helping them beat the Suns, 122-119, at Footprint Center for their lone win of the trip and their first road win of the season.
"We have a sense of urgency to want to get it right," Coach Darvin Ham said. "That awful taste of losing being in your mouth is just like, it'll drive you crazy. I know it drives me crazy. Had some ups, and downs, came out great and the bottom fell out a couple of times. We were able to salvage it by buckling down, playing hard and being aggressive on the defensive end, which led to some really good offense."
The Lakers turned up the defensive pressure in the fourth quarter, recording four steals in the final quarter to help them get out in transition in their first game of the inaugural In-Season Tournament.
And when the Suns dared the Lakers to beat them with 3-point shooting, they did. They shot 9 for 17 from behind the arc in the second half (5 for 11 in the final period), including a Cam Reddish open corner 3-pointer after three offensive rebounds to give them a 118-113 lead with 1:10 remaining. Reddish scored nine of his 17 points in the fourth quarter and shot 5 for 8 from 3-point range for the night.
"Everyone in that locker room, everyone within the organization has the utmost faith in Cam," Ham said. "And he showed it [Friday]. His attention to detail. We don't win this game without his performance. We needed all five of those 3s."
And they grabbed the rebounds necessary to pull out the victory, only allowing two offensive rebounds for zero second-chance points in the fourth quarter after allowing 15 offensive boards for 21 second-chance points in the first three quarters.
The Lakers (4-5) leaned on a lineup configuration of James, Anthony Davis (18 points, 11 rebounds, four assists), Austin Reaves (15 points, seven assists) and two bigger wings/frontcourt players down the stretch to seal the victory.
Reaves, coming off the bench for the first time this season, made a layup with 9:25 remaining – part of a 14-0 run – to give the Lakers their first lead of the second half at 97-96. Reaves added a couple of mid-range jumpers in the fourth to help them stay ahead.
Rui Hachimura (career-high four steals and seven points) and Christian Wood (five points, nine rebounds) played big roles off the bench.
James, who was 11 for 17 from the field (3 for 4 from 3-point range) in 36 minutes, came up limping after getting fouled in the first quarter, grabbing at his lower left leg. The 38-year-old star got some medical treatment on the bench before returning for the start of the second quarter.
He looked fine the rest of the evening, helping orchestrate the comeback.
Related Articles

Lakers get healthier, shake up starting lineup in Phoenix

Alexander: Lakers' slow starts have led to a slow start

Lakers start in-season tournament seeking 1st road win

Depleted Lakers blown out by Rockets, drop to 0-5 on road

Rui Hachimura returns for Lakers, but Anthony Davis sits out against Rockets
"It was good to just finally get over the hump at this early stage of the season," James said. "We've been playing from behind in a lot of our games and haven't been able to take the lead. That was a good feeling."
Kevin Durant led the Suns (4-5) with 38 points, nine rebounds and five assists. Bradley Beal had 24 points on 9-of-17 shooting but only had four points in the second half. All-Star guard Devin Booker missed his fourth straight game because of a strained right calf.
Durant scored 15 points in the third quarter as the Suns nursed a single-digit lead, but Reddish hit a 3-pointer at the buzzer to cut the Phoenix advantage to 96-89 heading to the fourth.
"It was a good team win," Ham said. "A lot of what we saw in the second half, that has to be our identity."
The Lakers return to Los Angeles on Saturday before facing the Portland Trail Blazers on Sunday night at Crypto.com Arena.
LeBron and AD speak with the media about tonight's In-Season Tournament game and what worked down the stretch for the #LakeShow. pic.twitter.com/g6d3FXttfF
— Spectrum SportsNet (@SpectrumSN) November 11, 2023
Darvin Ham provides an update on LeBron James, discusses Austin Reaves' move to the second unit and more. pic.twitter.com/buWM8i2c6Y
— Spectrum SportsNet (@SpectrumSN) November 11, 2023
Cam Reddish, COLD
Lakers up 5 with 1:10 remaining!
NBA In-Season Tournament
West Group A action on ESPN pic.twitter.com/KwdxfZUltF
— NBA (@NBA) November 11, 2023
"I was trying to stay ready, you know Bron out there so you got to be ready at all times." Cam Reddish (17 pts, 3 stl, 3 reb) with @LakersReporter on tonight's come-from-behind win. pic.twitter.com/zN0WihUlXP
— Spectrum SportsNet (@SpectrumSN) November 11, 2023
Two of the NBA's all-time best put on a SHOW in West Group A play!
LeBron: 32 PTS (11/17 FGM), 10 REB, 6 AST
KD: 38 PTS (4/6 3PM), 9 REB, 4 AST pic.twitter.com/QYEXgOZUpI
— NBA (@NBA) November 11, 2023
"First win of In-Season Tournament… "
AD walks off with a W pic.twitter.com/gXRDhQLmG4
— NBA (@NBA) November 11, 2023