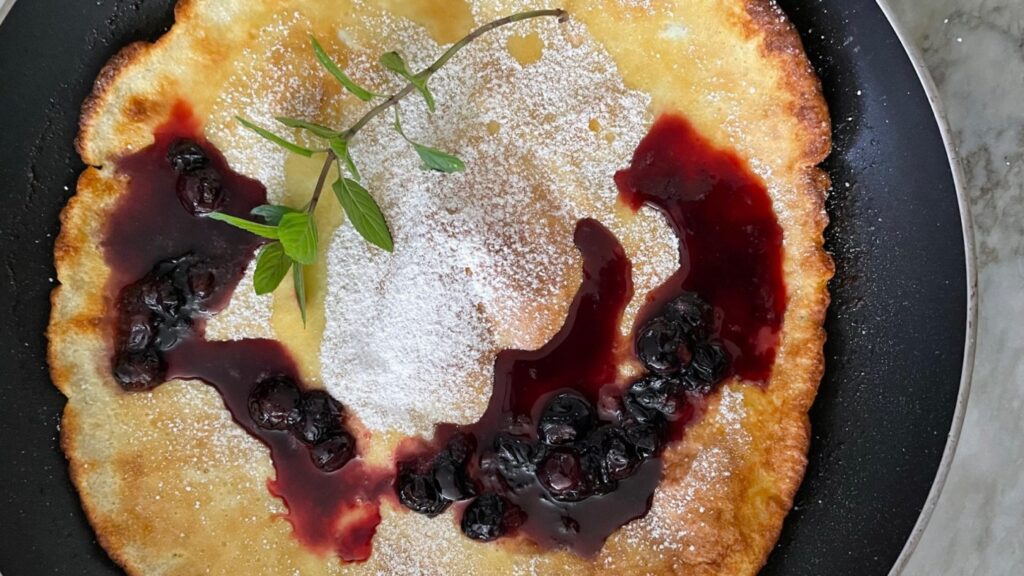 This Lemon-Kissed Skillet Pancake, with its beautifully browned dome, teams the tartness of fresh lemon juice as well as two palate-pleasing sweet components, powdered sugar and warm blueberry syrup.
Sometimes called a Dutch baby, this breakfast or brunch treat is much like a popover. It's a great emergency treat for unexpected guests.
Lemon-Kissed Skillet Pancake with Whole Blueberry Syrup
Yield: 4 small servings
INGREDIENTS
1/2 cup all-purpose flour
1/2 cup whole milk or 2% milk
2 large eggs, lightly beaten
1/2 teaspoon minced lemon zest (colored portion of peel)
4 tablespoons butter, cut into 4 pieces
Whole Blueberry Syrup: 1 cup maple syrup, 1/2 cup fresh blueberries
1 tablespoon fresh lemon juice
1 tablespoon powdered sugar
DIRECTIONS
1. Adjust oven rack to middle position. Preheat oven to 425 degrees.
2. In a medium bowl, combine flour, milk, eggs, and zest. Mix until well combined, but some small lumps should remain.
3. Melt butter on medium-high heat in large, ovenproof skillet. I use a shallow ovenproof 12-inch non-stick skillet with curved sides. When butter is melted and very hot (but not browned), remove from heat and pour batter in center. Bake for 18 minutes or until nicely browned and puffy. Meanwhile prepare syrup: Place syrup and whole blueberries in small saucepan. Place on medium heat and cook until heated through, about 4 minutes.
4. Remove pancake from oven (remember the handle is very hot). Sprinkle lemon juice on top of pancake. Place powdered sugar in a small sieve and lightly dust over surface. Cut into 4 servings and accompany with warm blueberry syrup.
Source: "Melissa's Everyday Cooking with Organic Produce" by Cathy Thomas
Award-winning food writer Cathy Thomas has written three cookbooks, including "50 Best Plants on the Planet." Follow her at @CathyThomas Cooks.com.
Related Articles

3 cheers (and recipes) for leftover Rosh Hashana brisket

America's Test Kitchen's Oktoberfest recipes: Spaetzle, Black Forest Brownies

Gretchen's table: Loaded wedge salad is stacked with texture and flavor

Recipes: Here's how to make a crustless Basque cheesecake — or a more traditional style

Recipe: Vegan burrito bowls make satisfying low-cost meals