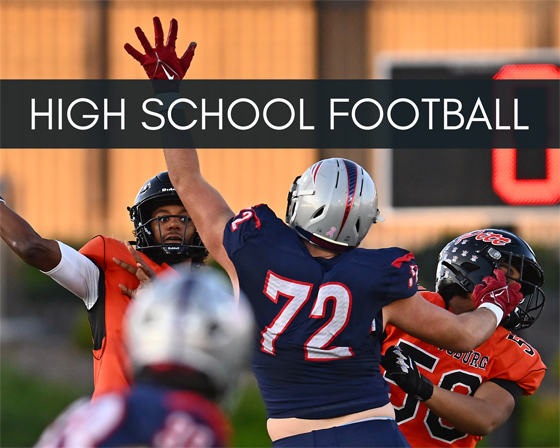 Support our high school sports coverage by becoming a digital subscriber. Subscribe now
Here are the Orange County high school football stat leaders after the Week 4 games.
The leaderboards are based on season stats published on MaxPreps.com.
To be included, teams must have stats updated on MaxPreps each Tuesday by 2 p.m.
PASSING: TOTAL YARDS
Name, school                                         Yds.      Yds/G.   Comp. Att.    TD
Noa Banua, Fountain Valley                    1221      244.2        86     135     18
Max Ruff, St. Margaret's                          1204      240.8      105     170     11
Jackson Kollock, Laguna Beach              1148      287.0        72     132     10
Cullen Doyle, Brea Olinda                        1118      223.6        78     136     12
Anthony Luna, Western                            1071     267.8         95    149      13
Jaden O'Neal, Newport Harbor                1034      206.8         85    148      10
Elijah Brown, Mater Dei                           1012       253.0        63       87     16
Ryan Reger, Fullerton                              1009       201.8        71     126     10
Nate Bento, El Dorado                               998       249.5        57       87     14
Rudy Alcala, Troy                                       988       247.0        41      82      15
Cash O'Byrne, Tesoro                                952       190.4        69     120       8
Brady Edmunds, Huntington Beach           945       189.0        58     116     12
Austin Shepard, Beckman                          933       186.6        67       94     14
Annett Kaleb, Corona del Mar                    887        221.8        79     131      8
Holden Nagin, Yorba Linda                        887        177.4         72    102     10
Nate Richie, Capistrano Valley Christian   875        291.7         64      95     13
Devin Almazan, Kennedy                          869         217.2        58      82      10
Jace Lowe, Dana Hills                               851         170.2        53    102      10
Rocky Palacio, Portola                              844          168.8        65    125        7
Jeremiah Finaly, Crean Lutheran              822          205.5        76    105        8
Jack Stupin, Tustin                                    821          164.2        50      90      10
Nicholas Miali, Foothill                               794          198.5        59      90       7
MJ Fernandez, Anaheim                            774          154.8        56     111      2
Tommy Acosta, Capistrano Valley             769           153.8        71     113     11
Matthew Peters, Calvary Chapel               763           152.6        45      87       9
RUSHING: TOTAL YARDS
Name, school                                         Yds       Yds/G     Yds/Car    Att     TD
Aaron Forsgren, Esperanza                    1036       207.2        10.36      100     13
Eimesse Essis, Tustin                              898        179.6         11.37       79       6
Tatum Ramos, Woodbridge                      715        143.0           9.05       79       8
Aiden Rubin, San Clemente                     655        131.0           6.48      101      9
Travis Wood, Tesoro                                 648        129.6           5.18      125       4
Nathan Aceves, Brea Olinda                     643        128.6           6.12      105       9
Charles Denny, Valencia                           637        127.4           7.08        90      11
Mattew Peters, Calvary Chapel                579        115.8          10.72        54        6
Ardwon Morris, Orange                             579        193.0           7.82        74        7
Pablo Reyes, Garden Grove                     558        139.5           5.94        94        5
Jaden Moore, Buena Park                         544        136.0         10.88        50        9
Aaron Mitchell, Foothill                               531        132.8           6.90       77      10
Carter Christie, Villa Park                           529        132.2         11.02        48        9
Brandon Figueroa, Irvine                            522        130.5           7.05        74       7
Ryan McKevitt, Laguna Hills                       512        170.7           9.85       52       5
Jake Martinez, Whittier Christian                509         101.8          6.79        63       9
Anthony Abad, Sonora                                498          99.6           7.22        69        8
Tyler Young, Huntington Beach                   466          93.2           5.36        87        3
Nick Rogers, Laguna Beach                        450        112.5           8.82        51        6
Taylor Bowie, Trabuco Hills                          446        111.5           5.51        81        4
Steve Chavez, Orange Lutheran                  437          87.4           5.46        80        8
Jordon Davison, Mater Dei                           424        106.0           8.15        52        5
Deshawn Cobbs, Fullerton                            424         84.8           4.82        88         4
RECEIVING: TOTAL YARDS
Name, school                                        Yds       Yds/G     Yds/Rec    Rec     TD
Nolan Olivares, Fountain Valley              589        117.8         17.85       33       8
Dylan Gardner, Yorba Linda                    565        113.0          14.49       39      3
Trent Mosley, Santa Margarita                 561       112.2          16.03       35      6
Vance Spafford, Mission Viejo                 529        105.8          15.11       35      3
Vander Ploog, Troy                                  525        131.2          25.00       21       9
Hunter Gray, Huntington Beach               494          98.8          29.06       17       7
Noah Kucera, Dana Hills                          473          94.6          17.52       27      4
Kamran Jahromi, Portola                          459          91.8          15.83       29      5
Josiah Lamarque, Newport Harbor           441          88.2          14.23       31      6
Russell Weir, Corona del Mar                   423         105.8          15.11       28      3
Declan Kai Healey, Troy                            393           98.2          30.23      13      6
Russell Frye, St. Margaret's                      389           77.8          10.51       37     3
Jordan Anderson, Newport Harbor            388          77.6           11.41       34     3
Bryce Whitley, La Habra                            384          76.8           22.59       17      6
Will Viola, St. Margaret's                            372          74.4          13.29        28.     5
Xavier Cadena, El Dorado                         371          92.8           23.19       16       6
Jack Zerkel, Foothill                                   371          92.8          16.86        22       2
Sean Embree, Santa Margarita                  360          90.0          21.18       17       2
Desmin Joshway-Fairley, Western              358          89.5         12.34       29       4
Mack Alleyne, Tustin                                   353          70.6         22.06       16       6
Jason Robinson Jr., San Juan Hills             353          88.2        17.65        20       3
Joshua Faulkner, Western                           350          87.5        15.22        23       7
Max Krosky, Capistrano Valley Christian     349         116.3        13.96       25       7
Devin Bell, Kennedy                                    348           87.0        16.57       21       4
Jackson Pellkofer, Calvary Chapel              346           69.2        24.71       14      5
Tyler Hennessy, Orange Lutheran               345           69.0        12.32       28      1
Oswaldo Lozano, Ocean View                     341        113.7          28.42      12      4
TACKLES – TOTAL
Name, school                                          Tackles      Tck/G      Solo      Asst        TFL
Jackson Sievers, Capistrano Valley             67             13.4         48          19            7
Carter Jones, Crean Lutheran                      63             15.8         48          15            6
Tanner Muir, Newport Harbor                       63              12.6         37          26           2
Evangelino Salud, Westminster                   55               11.0         25         30            4
Joel Clemente, Fullerton                              53               10.6         22         31            2
Battle Gideons, St. Margaret's                     51               12.8         28         23            3
Brandon Soleau, Huntington Beach            51                10.2         32         19            9
Johnny Rojas, Whittier Christian                 51                10.2         17         34            3
Jack Klausner, St. Margaret's                     50                 10.0         25         25            4
Chris Villalobos, Godinez                            50                 10.0         30        20            0
Gavin Ghahyasi, Calvary Chapel                48                   9.6         20        28           3
Nathan Nieves, Calvary Chapel                  48                   9.6         20        28          20
Jake Javorsky, San Juan Hills                     48                  9.6          37        11          14
Hoi Hansen, Edison                                     47                15.7          11        36            1
Gabriel Jimenez, La Habra                          47                11.8          20        27            0
Ethan Cedillo, Westminster                          46                 9.2          14        32            5
Puka Fuimaono, San Clemente                   46                 9.2           25        21           3
Eddie Zarate, Bolsa Grande                         45                9.0           25        20           0
Gabriel Hendricks, Newport Harbor              44                8.8           25        19           0
Dominic Barto, Dana Hills                             44                8.8           33        11           2
Noah Sulick, Santa Margarita                       44                8.8           21        23           4
Dalton Hurd, Tesoro                                      44                8.8           14        30           2
Keenan Tagoa'i, Orange Lutheran                44                8.8             8        36         12
Ezekiel Cedillo, Westminster                        44                 8.8           18        26          8