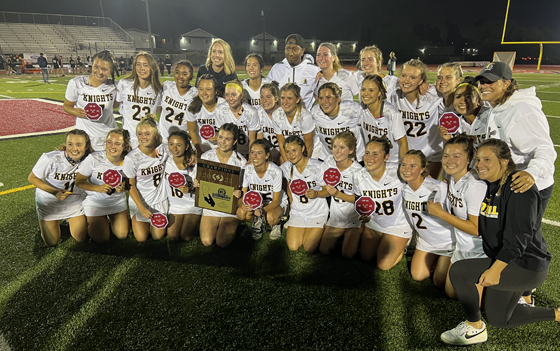 DOWNEY — The Foothill girls lacrosse team won its third consecutive CIF-SS Division 1 championship Friday with a dominant 12-5 win over Marlborough at Downey High.
Foothill (18-2) has perhaps been the most dominant girls sports team in the Southern Section the past three seasons. The Knights have a 61-3 record the past three seasons and have not lost to a Southern Section team since 2019.
Foothill girls beat Marlborough 12-5 to win its 3rd consecutive CIF Division 1 championship. Knights are 61-3 in last 3 years and haven't lost to a Section team since 2019. Mia Marchetti and Brynn Perkins each had 3 goals. @ocvarsity @FoothillGirls @ocvarsityguy pic.twitter.com/lhfLcBzoqz
— Michael Huntley (@mikehuntley63) May 13, 2023
"This senior class is what is special. There are 11 of them and they are all studs," Foothill coach Cristina Rodriguez said. "They have put in so much work to earn these three. Their leadership and passion is unmatched."
The first 10 minutes of the game were slow, like two championship boxers feeling each other out in the early rounds. Foothill began an onslaught at the 16-minute mark of the first half and led 9-1 at halftime.
Sophomore Brynn Perkins scored three goals in the first half for the Knights. Mia Marchetti, Tatum Walshe and freshman Kayla Agarie each scored twice in the first half for Foothill.
Marchetti scored three goals for the Knights and senior Alexa Lemerise added a goal in the second half.
Foothill has four players with over 40 points this season.
"We have a lot of depth on our team and I think that's what makes us really special," Marchetti said.
Senior goalie Mikayla Yang had three saves in the first half for the Knights and Jenna Cardeno was in goal for much of the second half.
Yang, a Marquette signee, had six saves Friday and has been the starting goalie for all three championships.
"Mikayla is a rock star. She's gotten better and better each year," Rodriguez said.
Courtney Copeland led the Foothill defense and the senior added a goal in the second half.
Related Articles

Foothill boys lacrosse finishes on top in CIF-SS Division 1 with win over Loyola

Foothill boys lacrosse defeats CdM in semifinals; Aliso Niguel, Canyon advance

CIF-SS lacrosse playoffs: Monday's scores, updated schedule

Photos: Portola girls lacrosse defeats Northwood in CIF-SS Division 3 semifinals

CIF-SS boys lacrosse playoffs: Saturday's scores, updated schedule