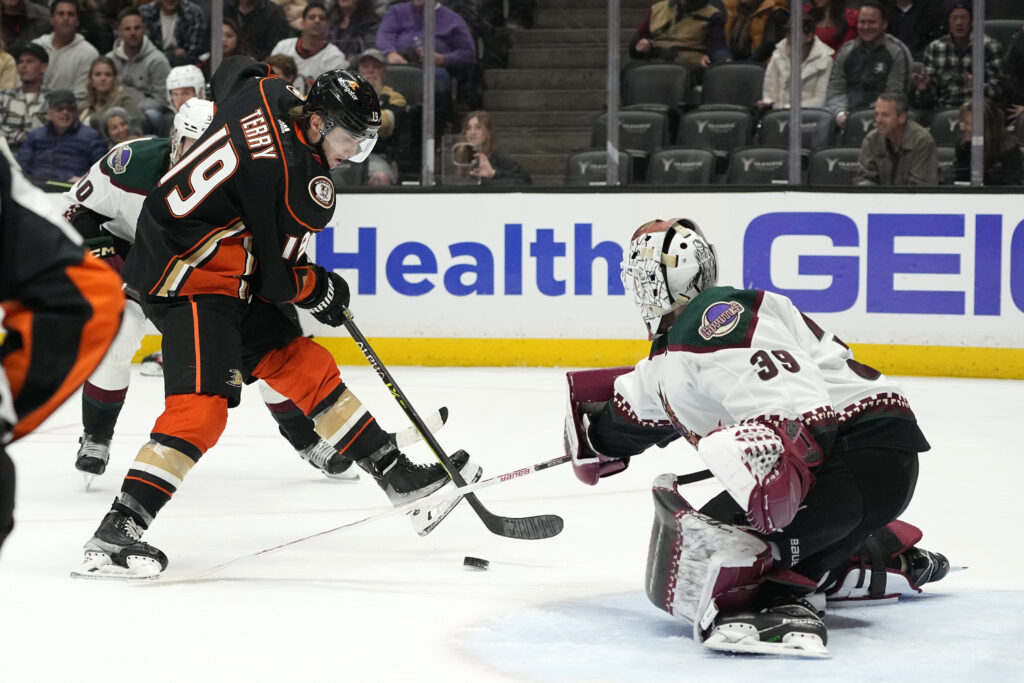 ANAHEIM –  Looking ahead to vacation – long or short – eventually works its way and takes up residence in the head of almost everyone.
Professional athletes included.
That's why you see particularly unexpected results just before the Christmas break or the All-Star break or the final game of the regular season for non-playoff teams.
"Games like tonight to me are like the last game going into the Christmas break," Ducks coach Dallas Eakins said. "The first game coming back out of the Christmas break.
"…The team that can get their head into it the fastest and not be thinking about their flight to wherever they're going to after the game or tomorrow. It shouldn't be a challenge but it is. I think it's going to be a challenge for our guys."
As it turned out, the Ducks had no problem getting up to play the Coyotes. Likewise, for the Coyotes.
The Ducks prevailed 2–1 in overtime in an emotion-laden game on Saturday night at Honda Center. They head into the break – off until Feb. 6 – on a three-game winning streak, their longest of the season.
The winning goal came from Trevor Zegras with 1:26 remaining in a wide-open overtime after Ducks defenseman John Klingberg stripped Coyotes forward Matias Maccelli of the puck.
There were a host of skirmishes after the whistle throughout the game, and the Ducks' Zegras and Coyotes defenseman Troy Stecher exchanged words in the second period with Stecher especially livid.
Although the teams combined for seven goals on Tuesday – the Ducks beating Arizona 5-2 – the offense was limited to two goals through the first 40 minutes. Coyotes forward Nick Ritchie, a former Duck and first-round pick (No. 10 overall) in 2014, scored Arizona's lone goal, at 16:21 of the first period, and Ducks forward Max Jones equalized in the second at 12:32 with his fourth goal of the season, beating Coyotes goalie Connor Ingram on the glove side with a shot from the right circle.
Related Articles

Ducks host an inspirational 'Women in Sports Night'

Frank Vatrano's aggressive approach benefits Ducks in Colorado

Frank Vatrano's hat trick helps Ducks stun Avalanche

Ducks' power play is slowly but surely coming along

Ducks use rare fast start to beat Coyotes
The Ducks played almost the entire third period with five defenseman as Urho Vaakanainen was limited to one shift in the opening minute of the third. Missing his second straight game was defenseman Kevin Shattenkirk who suffered a lower-body injury when he blocked a shot at Arizona on Tuesday. Nathan Beaulieu took Shattenkirk's place on the third D pair against the Coyotes. The other scratches were forward Brett Leason and defenseman Colton White.
"(Shattenkirk) did everything he could to get back," Eakins said. "He skated but he's not quite there. So why push it?"